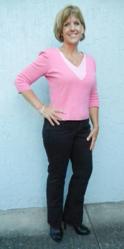 I knew I didn't have time to attend meetings and I needed meals that didn't require a lot of fuss.
Fort Washington, PA (PRWEB) October 11, 2012
Colette Oldham, age 53, from St. Augustine, Florida, has revealed she spent years feeling "stuck." She knew she needed to make a change in her lifestyle, but she felt "trapped" by the demands of everyday life. Plagued by back and feet issues, she reached rock bottom. According to Nutrisystem, here is where and how she went from there:
Open Up -- Her husband asked, "What's wrong?" He knew she was unhappy, but had no idea why. She took a chance and opened her heart to him. Colette revealed she despised the weight she was carrying and that she felt horribly unhealthy. Colette had tried other weight loss programs through the years without success.
Define Obstacles – She also shared her frustration that life was just too full of things that needed to get done. Colette didn't think she could possibly put forth the time and energy it would take to make a substantial change, even though she knew it needed to happen. As Dr. Mehmet Oz describes in a recent TIME Magazine article, getting "unstuck" is a common challenge.
Identify Inspiration – Colette had seen Marie Osmond's ads for Nutrisystem and was intrigued. Marie's inspirational messages lingered in her mind. Having since learned of Colette's success, Marie Osmond noted, "One of the reasons that I share my personal experiences is to hopefully help and motivate others. I'm happy to hear of Colette's success. Every story, like Colette's, inspires others to know that they can have success too."
Resist Assumptions – Colette assumed a home-delivery weight loss program would be way too expensive and even went so far as to tell her husband "I can't ask that of our family." But, he said three life-changing words, "Check it out." She promptly looked into Nutrisystem and discovered the program she had only imagined being able to take advantage of was actually very affordable (Nutrisystem plans start as low as $8 a day). "I was amazed and started to feel a lot less stuck," she shared.
Take First Step – After collaborating again with her husband, they were both sure she should forge ahead. She signed up immediately, and a few days later, a big brown box arrived with meals perfectly portioned for weight loss® and she officially launched into what she describes as "a life-changing few months." Even through the perils and pitfalls of holiday eating and the ongoing stresses of life's daily demands, she lost weight. Once on the plan, Colette found that her family's eating habits improved as she focused on healthier food choices and that the family wasn't eating out as much.
Use Every Asset – Colette liked the fact that she could be as public or private as she wanted in seeking support. Nutrisystem offers phone counseling by trained weight-loss coaches and registered dietitians, as well as 24/7 support through its online community. Colette found herself taking advantage of the motivational Daily Dose and Mindset Makeover® content on the Nutrisystem site. "I knew I didn't have time to attend meetings and I needed meals that didn't require a lot of fuss," she relayed.
Clear Exercise Hurdle – She also realized exercise was the next hurdle and a vital tool for health and well-being. Colette changed her mindset and took "baby steps" in adding activity back into her life. She declared, "I went from leading a sedentary life of physical pain to preparing to run a half marathon!" Nutrisystem offers "My Daily 3," comprised of three 10-minute intervals of physical activity or 30 minutes of moderate daily exercise. Customers can take a short assessment quiz on http://www.nutrisystem.com and receive a personalized two-week sample "My Daily 3″ program to get started.
Colette Oldham ended up losing 94 pounds* and 54 inches on Nutrisystem.
To view additional Nutrisystem success stories like Colette, and for more information on the
Nutrisystem® SUCCESS™ program and to order today, please visit
http://www.nutrisystem.com/success4u or call 1-888-841-2572.
*Results not typical. On Nutrisystem®, you can expect to lose at least 1-2 lbs per week.
Individuals are remunerated.
About Nutrisystem
Having helped Americans lose millions of pounds over the last 40 years, Nutrisystem, Inc. (NASDAQ: NTRI) develops evidence-based programs for healthy weight management, and is the leading provider of home-delivered weight loss meal plans. Nutrisystem offers balanced nutrition in the form of low glycemic index meal plans designed for men and women, including seniors, vegetarians and the Nutrisystem® D® program for people with diabetes or at risk for type 2 diabetes. Nutrisystem® plans include a wide variety of pantry and fresh-frozen entrees and snacks to aid in program satisfaction and adherence, as well as transition plans to support long-term success. The Fort Washington, PA-based company also provides weight management support and counseling by trained weight-loss coaches and registered dietitians, as well as through an engaged online community, online tools and trackers, mobile apps, cookbooks and more. Healthcare professionals may learn more about the programs by visiting http://www.nutrisystem.com/hcp. The Company has also introduced a new in-store retail line, Nutrisystem® Everyday™ products, comprised of nutritionally balanced bars, smoothies, bakery and breakfast items aimed at consumers who aspire to eat healthier.