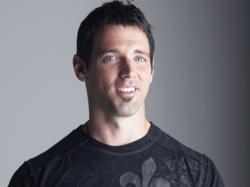 The choice was really, really tough.
Toronto, ON and New York, NY (PRWEB) December 16, 2011
Precision Nutrition, the world's leading online nutrition coaching and certification company, today announces the winners of its latest $50,000 body transformation contest.
"This choice was really, really tough," said Precision Nutrition Chief Science Officer John M. Berardi. "This last round of the Lean Eating Coaching Program produced some of the most outstanding transformations – physical and lifestyle transformations – I've seen in my entire life."
Last week, Lean Eating coaches Krista Schaus and Jason Bonn criss-crossed the continent to surprise the male and female grand prize winners with two large $10,000 checks and capture the event on video. Forty two runners up shared an additional $30,000 in prize money.
The women's winner is Toni Bauer, 36, of Chicago, Illinois. She lost 46 pounds and now weighs 139 pounds. Toni went from 29.4% body fat to 16.1% body fat in the year-long online Lean Eating Coaching program. She also went from a 39 inch waist measurement to 31 inches.
Toni is thrilled and says: "I think that I will be processing my Lean Eating journey for a long time to come. Throughout my life I have drifted towards a healthy lifestyle and then back away from it."
"This is the first time I feel like I have truly made an internal shift. In particular, I learned about self forgiveness. Perfection is not achievable. It's an unrealistic goal that used to leave me paralyzed into inactivity. Even my marriage has become better throughout the year. My husband and I now have a common goal around creating an environment in our home that reflects and supports our active lifestyle."
The men's winner is David Sell, a 31 year-old high school football coach from Houston, Texas. He lost 82 pounds and now weights 240 pounds. He went from 24.8% body fat to 12.9% body fat. And his waist size went from 55 inches to 39 inches.
Coach Sell calls the mental shift he experienced "phenomenal." He says he is not dieting. "My relationship with food has changed. This is the way I am choosing to live my life."
Coach Sell says the biggest change has been mental. "I have always been told that it's OK to be big. I was an offensive lineman so being a big guy was an essential part of the job. I am not that same guy anymore. I want to be lean and fit for the rest of my life."
Coach Sell thanked his own Lean Eating Coach, Jay Bonn, for helping him identify and overcome underlying eating issues. "What I learned is that there will be ups and downs along the way. This is a marathon, not a sprint. Lasting change takes time, I did not get fat overnight so my journey to the lean and fit body that I will have will not occur overnight as well."
You can read more about all the winners and the Lean Eating Coaching Program on the Precision Nutrition website.
About Precision Nutrition
Precision Nutrition is life-changing, research-driven nutrition coaching for everyone. The company translates science into real results for real people. It collects more nutrition coaching data than anyone in the world. Precision Nutrition also certifies fitness professionals and trainers worldwide through our Essentials of Sport and Exercise Nutrition textbook and online course title nutrition certification so they can help their clients lose fat and live healthier, more satisfying lives.
About Dr. John M. Berardi
Dr. John M. Berardi is the co-founder and Chief Science Officer of Precision Nutrition Inc. One of the world's foremost experts on sport and exercise nutrition, Dr. Berardi has authored numerous peer-reviewed studies, books, textbooks and hundreds of magazine articles on the topics of exercise and sport nutrition. As a nutrition coach and exercise physiologist, he has coached hundreds of elite athletes, among them professionals and Olympic gold medalists, and thousands of everyday folk through the Lean Eating Coaching Program. In the last two Winter Olympics alone, his athletes collected over 25 medals, 12 of them gold. In addition, he serves as a nutrition and high performance consultant for Nike. For more about Dr Berardi and his work, visit http://www.precisionnutrition.com.
###