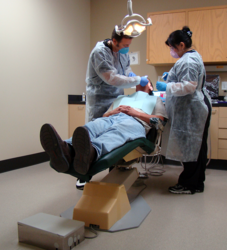 Proper nutrition supports not only healthy weight, blood pressure and heart health, but it also supports healthy teeth
San Antonio, TX (PRWEB) February 29, 2012
During National Nutrition Month in March, people should remember that good eating habits not only help maintain proper weight and healthy hearts, but also help the health of your teeth, according to San Antonio cosmetic dentist Edward Camacho.
National Nutrition Month is a nutrition education and information campaign sponsored annually by the Academy of Nutrition and Dietetics to focus attention on the importance of making informed food choices and developing sound eating and physical activity habits.
While most people know that sugar is bad for the teeth, few know that some foods that are healthy for general health are also good for the teeth. And keeping teeth in good shape, in return, also helps overall health, said Dr. Camacho, of Cosmetic Dentistry of San Antonio.
Sugar is linked to childhood obesity, which in turn can increase the chance of developing Type II diabetes. Gum disease is also linked to diabetes, among other health problems.
Acid is at the root of damage to teeth – either acidic foods and drink, or acids produced by the oral bacteria that live on sugar and convert it into tooth-damaging material.
In planning whole-body nutrition, people should consider foods and liquids that counteract tooth-harming acids, provide vitamins and minerals that support healthy teeth and repair damage and stimulate the flow of saliva.
"It's important to remember that the body is a complete system," Dr. Camacho said. "Proper nutrition supports not only healthy weight, blood pressure and heart health, but it also supports healthy teeth. This is important because unhealthy teeth and gums can have a serious impact on the whole body."
The top foods and drinks to support your teeth include:
BUILDING-BLOCKS – Your menu should include foods rich in the vitamins and minerals that make up teeth, including vitamins A, C and D, and calcium and phosphorus. These nutrients can be found in healthy foods such as beef, eggs, potatoes, spinach, fish, fortified cereals, tofu, leafy green vegetables, poultry, whole grains and beans. Many nuts also contain tooth-friendly vitamins and minerals, including peanuts (calcium and vitamin D), almonds (high levels of calcium), and walnuts (fiber, folic acid, iron, thiamine, magnesium, iron, niacin, vitamin E, vitamin B6, potassium and zinc).
DAIRY PRODUCTS – Unless loaded down with added sugar, these help teeth in a number of ways. Milk, yogurt and similar products provide calcium and phosphates that support the tooth structure. And enriched milk also provides Vitamin D, which helps the body use the milk's calcium. Cheese is especially good for teeth, providing calcium and other tooth-building material, and also by stimulating the flow of saliva. As a side note, milk does contain lactose, which is a sugar, so babies and toddlers should not go to bed with bottles that contain milk or juice (bottles should only have water) since prolonged contact with teeth causes rampant caries.
HIGH FIBER – Good nutrition includes high-fiber fruits, vegetables and grains, which aid digestion, lower cholesterol and other healthy effects. But these foods are also great for the mouth, because they physically scrub the teeth. Fruits do contain sugar, but they also have high water content that helps counterbalance the sweets. High-fiber foods also require longer chewing time, which stimulates the flow of saliva, the first line of defense for your teeth. Saliva neutralizes acids that eat away at your tooth enamel, and also contains minerals that replace those leached away by bacterial acids.
WATER – Whether for whole-body nutrition or oral health, water is the primary element. It's the main component of saliva and is vital to tooth and gum health. It rinses food and sugars and works to prevent tooth decay by strengthening tooth enamel.
BACTERIA FIGHTERS – Sugarless gums can help oral health by stimulating saliva production, scrubbing teeth and massaging gums. Those sweetened with Xylitol, however, have special benefits. These actually fight against tooth decay by working against Strep mutans, the primary bacteria that causes cavities. It must be in a high enough concentration though, about 0.75 to 1 gram per piece of gum. Xylitol is also available in packets and bulk as an alternative sweetener. Xylitol is a natural type of sugar extracted from a variety of plants. Another family of compounds, called polyphenols, also fights Strep mutans bacteria. These compounds, found in green and black tea, as well as cocoa, kill or suppress the bacteria, preventing them from growing or producing tooth-damaging acid.
ABOUT COSMETIC DENTISTRY OF SAN ANTONIO
Cosmetic Dentistry of San Antonio is a full-service cosmetic dental practice, specializing in Invisalign clear braces, top-quality dental veneers, dental crowns, dental bridges, teeth whitening and traditional orthodontics, as well as a full line of restorative procedures and preventative care.
16535 Huebner (at Bitters) Suite 102
Valencia Village Shopping Center
San Antonio, Texas 78248
(210) 493-9944
###