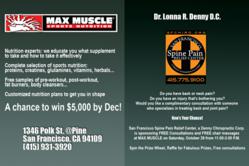 Through your personalized Nutrition Plan, we help you to understand what foods to eat, how much to eat, when to eat, how it relates to your body and how it relates to your lifestyle
San Francisco, CA (PRWEB) October 28, 2011
Max Muscle on Polk, San Francisco nutrition stores, will be giving away free t-shirts to the first 100 customers on Saturday the 29th of October, at their location on 1346 Polk Street and Pine in San Francisco. The event will last from 11 AM to 3 PM. In addition, Max Muscle will be giving free diet and nutrition consultations, free BMI and body fat analyses and free chair massages. Free consultations on back and neck pain and sports injuries will be sponsored by Dr. Lonna Denny D.C. from the Spine Pain Relief Center. There will be a raffle as well and the prize will be tickets to see the 49ners in live action.
Customers who utilize the free advice can get a head start on a customized nutrition plan.
"Through your personalized Nutrition Plan, we help you to understand what foods to eat, how much to eat, when to eat, how it relates to your body and how it relates to your lifestyle," says Chanh Pham, an employee of Max Muscle on Polk.
For more information on Max Muscle on Polk, please call (415) 931-3920 or visit them on the web at http://www.maxmuscleonpolk.com/.
About Max Muscle on Polk
Max Muscle on Polk is one of the finest San Francisco vitamin stores and nutritional stores in San Francisco, providing a complete line of sports nutrition supplements with everything from proteins, creatines, glutamines, vitamins and antioxidants. Located on Polk and Pine Street, this nutrition store is well equipped with knowledgeable professionals and variety of products, putting customers on a progressive path towards optimal physical fitness. Max's health experts educate customers on what supplement to take and how to take it effectively, ensuring their clientele is on a safe, yet productive regiment. Their certified Sports Nutrition Coach personalizes each nutrition plan to get customers back in shape or attain peak physical potential.
###