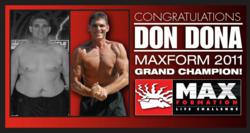 This annual fitness competition has been a life changing experience for many people nationwide
San Francisco, CA (PRWEB) December 16, 2011
Max Muscle on Polk, one of the finest vitamin and nutrition stores in San Francisco, is announcing that the 2012 MaxFormation fitness competition is now open for registration at http://www.mymaxmuscle.com/maxformation/.
MaxFormation is a nationwide fitness competition that will run for six months with winners announced in June 2012. Participants are asked to create a profile online, upload pictures and keep a journal of their progress. During the process, they could consult with a Certified Sports Nutrition Coach at the Max Muscle store for guidance and a meal plan for free.
The winner will receive $25,000 and be a Max Muscle spokesperson that will be featured in the company's magazines and campaigns throughout the nation.
"This annual fitness competition has been a life changing experience for many people nationwide," says Chanh Pham of Max Muscle on Polk.
Don Dona, a 45-year-old high school teacher from Dallas, won last year's MaxFormation. During the six month competition, Dona lost 109 pounds and 19 percent body fat.
"Max Muscle changed my life. Max Muscle literally saved my life," said Dona.
For more information, contact Max Muscle on Polk at 415-931-3920 or visit them online at http://www.maxmuscleonpolk.com. Max Muscle on Polk is located at 1346 Polk St. in San Francisco.
About Max Muscle on Polk
Max Muscle on Polk is one of the finest San Francisco vitamin stores and nutritional stores in San Francisco, providing a complete line of sports nutrition supplements with everything from proteins, creatines, glutamines, vitamins and antioxidants. Located on Polk and Pine Street, this nutrition store is well equipped with knowledgeable professionals and variety of products, putting customers on a progressive path towards optimal physical fitness. Max Muscle's health experts educate customers on what supplement to take and how to take it effectively, ensuring their clientele is on a safe, yet productive regiment. Their certified Sports Nutrition Coach personalizes each nutrition plan to get customers back in shape or attain peak physical potential.
###