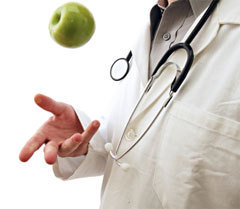 Tomorrow's Nutritionists and Dietitians will be called upon to lead the fight against treatable health care problems
Bellingham (PRWEB) May 11, 2010
XYZ Media, a leader in college and university resources for prospective students, announces the launch of a new career's section to Nutritionist-World, its nutrition and dietetic education website providing nutrition education opportunities to visitors throughout the US and Canada. As the nutrition has become one of the most demanded careers of the present decade, this new section provides the information needed to make an informed and educated decision about which subjects to study in order to reach your specific career goals. Nutritionist-World's new nutritionist careers section can be found at Nutritionist-world.com
The various careers available in the nutrition industry are vast and range between large numbers of different work environments. Nutritionist-World's Careers portal provides information on careers from clinical and sports nutritionist to community, family and children's nutrition; from holistic nutritionist and naturopathic nutrition to nutritional counseling, public health, fitness and even culinary arts nutritionist. Career information is available for those who wish to be registered or certified from all major certification and registration agencies in North America including the following:

American Dietetic Association (ADA)
The National Board of Nutrition Support Certification (NBNSC)
Clinical Nutrition Certification Board (CNCB)
The Certification Board For Nutrition Specialists (CBNS)
American Fitness Professionals & Associates (AFPA)
International Sports Sciences Association (ISSA)
For each career choice, Nutritionist-World will provide the information required to find a course of study to reach that career goal.
According to the Bureau of Labor Statistics, Nutrition and Dietetics careers are expected to increase much faster than the rest of the economy by 2020, in many cases faster than many other industries within health care. As nutrition careers grow, compensation, demand and expertise will also grow, providing a better than average outlook for the entire field. Nutritionist-World was created to provide prospective students with the understanding and understanding needed to choose the right dietitian degree program for their specific career goals. Some questions the site answers include the following:

Who is currently working in nutrition and dietetics?
What types of salaries and benefits will you earn?
What will the industries look like in the future?
We not only answer these questions for today's nutrition industry, but for tomorrow's challenges as well. Nutritionist-World provides information for anyone, no matter what part of their decision making process they may find themselves in.
"A healthier population means lower health care costs, as many of today's leading health care problems stem from treatable ailments such as obesity, diabetes, hypertension and poor physical hygiene. Tomorrow's Nutritionists and Dietitians will be called upon to lead the fight against treatable health care problems… To decide that you want to become a nutrition professional is a great first step. But choosing the best training will undoubtedly help to ensure a fulfilling and rewarding career in the industry" -Larry McDevitt,, RD (ADA Licensed Dietitian)
About Nutritionist-World.com
Nutritionist-World is a website created to help people looking into a career in nutrition, dietetics, fitness or public health, and helping them find the training they need to make an educated decision about their future. At Nutritionist-World, visitors are able to view schools, programs, information on bachelors degree in nutrition and classes, admission requirements and job qualifications, as well as browse the latest news articles, blogs and media reports.
###