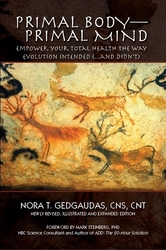 If you really want to know how your body and brain work, read this book!
Portland, OR (PRWEB) April 14, 2009
In her newly released book, Primal Body-Primal Mind: Empower your total health the way evolution intended (...and didn't), nutrition expert Nora Gedgaudas takes on the sacred cows of the health care and food industries to provide readers with a streamlined, simple approach to total health. Gedgaudas outlines how our brains and bodies work, based on fundamental human physiology and the selective pressures that have shaped it over time. The message of Primal Body-Primal Mind is positive and empowering: it is possible to re-engineer our bodies to optimal health--by remembering where we came from.
At a time when 16 cents of every American dollar is spent on health care, Gedgaudas believes it is not just possible-- but critical-- to restore the body and mind to a healthy foundation. By eating in a way that is in harmony with the fundamental workings of the human body and evolutionary history, it is possible to:

Reduce the need for prescription drugs and costly medical care
Burn unwanted fat easily and effortlessly
Skyrocket your energy
Improve brain function and your emotions
Save money on grocery bills
Save untold hours in the gym
Contribute to a more sustainable planet
Support healthy genetic expression
Drawing on a personal and professional passion for optimal body and brain function, Primal Body-Primal Mind is the culmination of 25 years of nutritional research and 12 years of practical experience with clients. Guiding readers through the maze of conflicting news about diet and lifestyle, Gedgaudas uncovers:

Why soy is not a health food
How supplements can help break our addiction to sugar
Why the USDA pyramid is making us fat
The clear connections between food and mood--and what to do about them
Why low-fat diets don't work
The pitfalls of "healthy" vegetarian diets
Which proteins are best for our bodies and how much we really need
An indispensable tool for nutrition professionals and consumers alike, Primal Body-Primal Mind provides the knowledge needed to take charge of your health while saving hundreds of dollars on grocery bills and future health care costs at the same time.
Quotes for publication
"How do you put an end to future medical bills and prescription drugs? How can you burn unwanted fat easily and effortlessly? Hint: The future of our species lies in our past."
"Eating a diet as similar as possible to what our ancestors ate is purely common sense, and based entirely on how we have been genetically molded for the vast majority of human evolution. No gurus needed. Eat the way your body was designed for you to eat, and a lot takes care of itself."
Reviews
"If you really want to know how your body and brain work, read this book!" - Thom Hartmann, author Beyond ADD
What readers, practitioners and clients are saying about Primal Body-Primal Mind
Related Links
Nutritional Advice_diet/health_Top 10 Nutritional Mistakes
Nutrition Blog_nutrition/health_Answers, advice and recipes on the Primal Blog
New Nutrition Book Free Chapter_nutrition/books_Download a sample chapter
Resources for sustainable diets: Weston Price Traditional Diets_sustainable/diet_Weston A. Price Foundation
About Nora
Raised in a prominent Minnesota medical family, Nora Gedgaudas, CNS, CNT, has a background in diet and nutrition spanning 25 years and is a respected and sought-after expert and teacher in the field. She is recognized by the Nutritional Therapy Association as a Certified Nutritional Therapist (CNT)/Nutritional Therapy Practitioner (NTP) and is Board certified in Holistic Nutrition® through the National Association of Nutritional Professionals (NANP). Nora has appeared as a guest lecturer, a trainer for the State of Washington Institute of Mental Health, illuminating nutrition's impact on mental health, and as a radio and television guest. This spring marks the launch of her radio program, Primal Body-Primal Mind Radio, on Voice America Radio's Health and Wellness channel. She maintains a private practice as a Certified Nutritional Therapist and a Board-certified clinical Neurofeedback Specialist in Portland, Oregon.
###