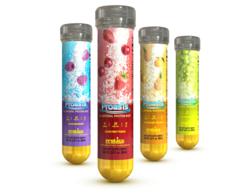 Whitehall, PA (PRWEB) February 23, 2012
Protica Research has announced that it has developed an all natural product to help consumers lose weight in a healthy way. This new protein shot, Proasis®, is designed to compliment many popular diet programs already being used by consumers. Proasis will allow consumers to supplement a whole foods weight loss diet with all natural, concentrated nutrition.
"So many people think they can take all the weight they have accumulated through years of poor diet and simply shed those pounds in a matter of weeks. Any rapid diet will place stress on the body, and you risk further stress by having your weight 'yo-yo' up and down," says Jim Duffy, founder and president of Protica. Duffy wants to develop products that help avoid the risks of unhealthy eating habits and meal skipping. Duffy believes Proasis can be used to help people avoid skipping meals, which denies nutrients to the body and slows metabolism. Proasis was designed to provide concentrated nutrients to increase metabolism and encourage efficient calorie burning.
Proasis was designed to be used with a healthy diet of fresh foods, providing additional nutrition necessary to maintaining a healthy weight. Its formulation is intended to provide concentrated nutrients and protein in a compact, three-ounce shot. When asked about the benefits of Proasis, Duffy said, "People can now take steps toward achieving their desired weight, while maintaining the proper levels of nutrition in a convenient and tasty way."
Jim Duffy founded Protica and developed the product line because of his desire to maintain a healthy diet despite his occasionally unhealthy eating habits. When asked about his products, Duffy added, "The temptation to starve yourself into looking good can be overwhelming to some, but there is always a way to maintain your health, even when trying to lose weight. It is our mission to help keep you healthy."
Duffy is confident that Protica products can help simplify and enhance the average person's daily eating routines, just as they have helped his diet.
About Protica
Founded in 2001, Protica, Inc. is a research-based nutraceutical firm headquartered in Whitehall, Pennsylvania. In its privately owned 250,000 square foot facility, Protica manufactures capsulized foods, such as Profect® ready-to-drink liquid protein beverage, Isometric® ready-to-drink meal replacement shot, Fruitasia® ready-to-drink fruit and vegetable shot, Protein Gem® ready-to-eat healthy gelatin, Protein Twist® ready-to-eat protein candy, Pediagro® ready-to-drink children's meal replacement, Proasis® all natural ready-to-drink liquid protein shot, and many other brands in ready-to-drink and ready-to-eat form. To learn more about Protica please visit protica.com.
###