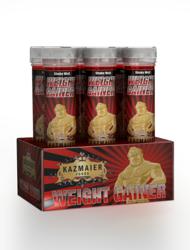 Whitehall, PA (PRWEB) February 23, 2012
Bill Kazmaier, three-time World's Strongest Man and ESPN host, will be promoting his new mass building shot, Weight Gainer by Protica Research, at the General Nutrition Center (GNC) booth at the Arnold Classic Sports Festival from March first through the fourth. Bill Kazmaier's new product, Weight Gainer, will be available to purchase at GNC stores nationwide.
Bill Kazmaier is the former reigning World's Strongest Man from 1980, 1981 and 1982. He has held several world records in power lifting. Most recently, he has been the commentator on ESPN for World's Strongest Man broadcasts. In 2006, Bill Kazmaier joined the Protica Research team as a sales liaison and industry consultant. Since that time, Protica began developing a product that was formulated to meet Kazmaier's nutritional requirements for power lifting training.
Protica's and Kazmaier's new body building product, appropriately named Weight Gainer, is the world's first shot-sized, ready-to-drink beverage intended to help people gain weight by consuming healthy, dense nutrition. Each serving of weight gainer contains 500 calories of dense nutrition including 50 grams of protein, 30 grams of complex carbohydrates, five grams of fiber, two servings of fruits and vegetables, and 27 vitamins and minerals in a 3.2 ounce liquid shot. Weight Gainer's formulation allows users to consume the maximum amount of nutrients per fluid ounce. Kazmaier will be on hand signing autographs and promoting his new product at the GNC booth at this year's Arnold Classic.
The Arnold Classic Sports Festival is a sports and bodybuilding competition named after Arnold Schwarzenegger. Held in Columbus Ohio, the annual event features bodybuilding, boxing, and martial arts competitions. "We feel that this is the perfect venue for Bill to promote his new Weight Gainer product and we are happy to be working with GNC to sell the product in the retail market," says Jim Duffy, president and founder of Protica Research, the company that developed Weight Gainer for Bill Kazmaier. GNC will be carrying the Weight Gainer product in stores across the country and will be featuring the product at their booth at the Arnold Classic.
About Bill Kazmaier
Bill Kazmaier is the former reigning World's Strongest Man from 1980, 1981 and 1982. After retiring from powerlifting, Bill began a lifelong mission to educate children about healthy eating. Bill frequently speaks to children audiences at schools and other venues throughout country. Bill is also a regular commentator on ESPN for World's Strongest Man broadcasts.
About GNC
Started in 1935, GNC Holdings, Inc, headquartered in Pittsburgh, PA, is a leading global specialty retailer of health and wellness products, including vitamins, minerals, and herbal supplement products, sports nutrition products and diet products, and trades on the New York Stock Exchange under the symbol "GNC".
GNC has more than 7,400 locations, of which more than 5,700 retail locations are in the United States (including 906 franchise and 2,075 Rite Aid franchise store-within-a-store locations) and franchise operations in 50 countries (including distribution centers where retail sales are made). The Company – which is dedicated to helping consumers Live Well – stocks a wide range of weight loss, bodybuilding and nutritional supplements, with both GNC brands as well as many known brands. GNC also stocks vitamins, natural remedies, and health and beauty products.
About Protica
Founded in 2001, Protica, Inc. is a research-based nutraceutical firm headquartered in Whitehall, Pennsylvania. In its privately owned 250,000 square foot facility, Protica manufactures capsulized foods, such as Profect® ready-to-drink liquid protein beverage, Isometric® ready-to-drink meal replacement shot, Fruitasia® ready-to-drink fruit and vegetable shot, Protein Gem® ready-to-eat healthy gelatin, Protein Twist® ready-to-eat protein candy, Pediagro® ready-to-drink children's meal replacement, Proasis® all natural ready-to-drink liquid protein shot, and many other brands in ready-to-drink and ready-to-eat form. To learn more about Protica please visit http://www.protica.com
###