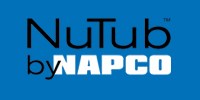 When water leaks through, damage can be caused to the structures below the tub.
Skokie, IL (PRWEB) January 16, 2014
Plastic bathtubs, when installed incorrectly, can develop cracks in the floor. Water leaking through these cracks can cause structural issues and, in some cases, health issues for residents. NAPCO has signed an agreement with Lowe's to stock 233 stores with the NuTub Bathtub Floor Repair DIY kit. The kit permanently solves this problem. The item will be featured in an end cap display starting on January 6th, 2014. If the test goes well, the item will rollout to all Lowe's stores.
In the early 1970's builders started installing plastic bathtubs in homes, hotels and retirement facilities; many without proper floor support. These poorly installed tubs are prone to cracking in the floor. "These tubs present several problems for residents," said Steve Coven, owner of NAPCO. "When water leaks through, damage can be caused to the structures below the tub. In addition, mold can quickly start to grow."
According to the Center for Disease Control and Prevention (CDC), a US government agency, "…exposure to molds can cause symptoms such as nasal stuffiness, eye irritation, wheezing, or skin irritation" for people sensitive to mold. In addition, a 2004 Institute of Medicine (IOM) study also suggested a possible link to similar symptoms in otherwise healthy children.
The NuTub bathtub floor repair kit is an easy DIY solution for the problem of cracked bathtub floors. The non-slip inlay included in the kit permanently bonds to the tub floor with specially formulated adhesive. The process is completed in less than 1 hour. No special skills or tools are required. The kits are available in bone and white and come in standard tub sizes.
The NuTub bathtub floor repair kit is the only DIY kit on the market today. Previously, homeowners and property managers would call in a professional to install an inlay or replace the tub entirely; a messy and costly process. The initially priced $99.99 NuTub DIY bathtub kit represents a significantly easier and less expensive method to solve the problem.
The anti-slip property of the inlay is an attractive feature as tub accidents can cause serious injury. According to a 2008 CDC report, 150,000 Americans hurt themselves in a tub or shower in 2008. The NuTub inlay has a built-in anti-slip surface that helps prevent these serious falls. NuTub shower floor kits will also be available at lowes.com.
Starting in January of 2014, kits will be available at lowes.com and in test stores. For a list of Lowe's stores carrying the NuTub kit, please visit http://www.napcoltd.com/nutub.
About NAPCO, Ltd.
NuTub inlay kits are produced by NAPCO, a 35 year-old company providing equipment, supplies and training to professional kitchen and bathroom refinishers. A leader in the green remodeling movement, they offer sound alternatives to replacement of counters, sinks, tile and bathtubs. If you want more information on the NuTub repair kits please call 1-800-888-1081 or visit http://www.nutub.us today.