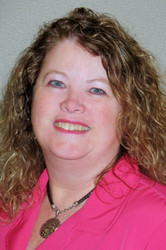 Every day I talk to folks we've gotten to know through the credit union. Sometimes they drop by just to say 'Hi'. We're strongly committed to our members and they trust us to be here for them, in good times and in not so good times
Hastings, MI (Vocus) March 18, 2009
The Barry County Chamber of Commerce recently announced the election of Jennie Olsen of Hastings as Chairman of its Board of Directors. Olsen, a long time resident of Hastings, has been active in the Chamber for over ten years.
Olsen said, "The Chamber has a long-standing tradition of support to local businesses who have contributed to the growth and prosperity of Barry County. I've lived in Hastings most of my life and being involved in our community has always been important to me. Serving in this way is an exciting opportunity to work even closer with business leaders who promote Barry County."
Olsen is Branch Manager of NuUnion Credit Union's Hastings branch located at 209 N. Church Street. She has been with the credit union since 1985 and enjoys the daily personal interaction she has with members. "Every day I talk to folks we've gotten to know through the credit union. Sometimes they drop by just to say 'Hi'. We're strongly committed to our members and they trust us to be here for them, in good times and in not so good times," said Olsen.
Olsen and her husband Marty enjoy travel and are hard at work planning their next adventure.
NuUnion was established in 1952 and today is nearly 89,000 members strong. With more than $818 million in assets and 14 branches, including eight locations in Lansing, two in Mt. Pleasant, and four in west Michigan, NuUnion believes in providing a unique service experience. Membership is open to anyone in its 28-county service area. To learn more about NuUnion, visit http://www.NuUnion.org.
Contact:
Danielle Brehmer
517.267.7439
http://www.NuUnion.org
# # #