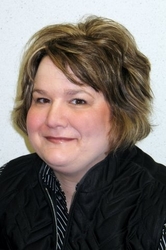 Each person has different needs because of where they are in their life. I enjoy meeting people, getting to know them, and seeing what we can do to help make their lives more enjoyable
Lansing, MI (Vocus) March 17, 2009
Theresa Dubiel of DeWitt was recently named branch manager of NuUnion Credit Union's South Lansing branch, located at 438 E. Edgewood Boulevard. Dubiel makes her debut at the South Lansing branch, one of the credit union's busiest, during an exciting time. NuUnion plans to relocate the branch to a new building with construction to begin in 2010 on the site of the former Regent Inn, less than a half mile away.
With over 18 years of customer service and marketing experience, Dubiel recognizes the importance of getting to know the people who walk through her doors. "Each person has different needs because of where they are in their life. I enjoy meeting people, getting to know them, and seeing what we can do to help make their lives more enjoyable," Dubiel shared.
Along with a commitment to help NuUnion members find the right financial solutions, Dubiel has a knack for building alliances and a reputation for working hard to find the right solutions for community needs. "We take community involvement seriously at NuUnion and firmly believe in giving back to the folks we serve," said Dubiel. "I'm looking forward to being an active member of the South Lansing community and building strong partnerships with our neighbors."
As branch manager of the DeWitt location for three years and her passion for community involvement, Dubiel is known as a person who strongly believes in giving back. She is a member of the DeWitt Downtown Development Authority and also serves as a director on the board of the DeWitt Area Community Alliance. During the summer Dubiel spends time helping with the annual Movies in the Park program in DeWitt sponsored by NuUnion. Dubiel has also recently joined the South Lansing Business Association.
NuUnion was established in 1952 and today is nearly 89,000 members strong. With more than $818 million in assets and 14 branches, including eight locations in Lansing, two in Mt. Pleasant, and four in west Michigan, NuUnion believes in providing a unique service experience. Membership is open to anyone in its 28-county service area.
###