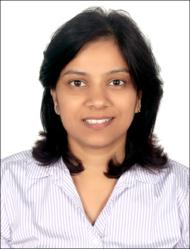 Mrs. Minu Singh said, "India is one of the key markets for Nuvia globally, with an immense growth potential across categories. I am excited to continue Nuvia's journey to success in one of the most dynamic markets in the world."
New Delhi, India (PRWEB UK) 14 December 2012
Nuvia India announces the appointment of Mrs. Minu Singh as its new Managing Director, overseeing Nuvia's operations in the region with effect from January 1, 2013. Mrs. Singh will be responsible for spearheading the overall growth and profitability of the company within the region, by driving robust business strategy, providing thought leadership and guiding excellence in market performance.
She brings with her over 14 years of diversified experience, with a host of senior level positions to her credit. Her last role was as Operation Director, Nuvia India, where Mrs. Singh played a crucial role in establishing Nuvia India and creating name/brand familiarization within Nuclear Industry in India. She was successful in developing a sound business strategy, while maintaining focus on customer orientation.
Mrs. Singh will be replacing Mr. Kenneth G Jackson, the current Managing Director, Nuvia India, who will be retiring, with effect from Dec 31, 2012 after a successful career spanning over 40 Years. He will be supporting Nuvia India as a non-executive Board member by providing technical guidance and facilitating technology transfer between Europe and India.
Announcing the new appointment of Mrs. Singh, Mr. Kenneth Jackson, said, "I am delighted to appoint Mrs. Singh as the new Managing Director for Nuvia India. She has already successfully contributed to early stage of Nuvia's entry into the Indian Nuclear Industry, and we are confident that her experience and expertise will take our Indian operations to the next level. I am confident that Mrs. Singh will build on this momentum in this growing market."
Expressing her delight on the appointment, Mrs. Minu Singh said, "India is one of the key markets for Nuvia globally, with an immense growth potential across categories. I am excited to continue Nuvia's journey to success in one of the most dynamic markets in the world."
About Nuvia
Nuvia can trace its roots from the beginning of the world's Civil nuclear programme. It offers its independent support services to governments, regulators, power plant operators, and turnkey contractors. Pioneering work in construction, engineering, nuclear R&D, design, build, operations, radiation protection and decommissioning has been undertaken; always with a strong emphasis on safety, quality, and sustainability. The Group's rich heritage is reflected in the wide range of services provided today. Nuvia is a Nuclear specialist company with over 2000 staff and pride ourselves on being an independent supplier of advice, engineering resource and specialist products. These products and services have been provided to many of the world's nuclear power plant and their associated infrastructures, giving Nuvia a global perspective of the demands of the Nuclear Industry and a trusted partner. Nuvia is the nuclear arm of the VINCI group, and a subsidiary of its specialised work and engineering company Soletanche Freyssinet with 16,500 staff and a turnover of 2,4B€. Soletanche Freyssinet is a wholly owned subsidiary of VINCI, the world's largest integrated concessions and construction group. Nuvia's parentage provides a solid foundation and offers its clients unprecedented access to a range of outstanding engineering expertise.
Further information is available from http://www.nuvia-india.com
Mr Ashish Jha
Tel +91 (0) 11 4938 4300
E-mail: info (at) nuvia-india (dot) com
http://www.nuvia-india.com