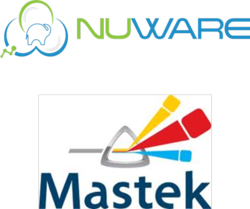 With this strategic win NuWare has established a larger presence in the Asia-Pacific market - Visveswaran Kartik
Santa Clara, CA (PRWEB) March 07, 2013
NuWare Technology Corp., a leading provider of Mobility, Big Data Analytics, and Cloud Infrastructure Management solutions to Life Sciences, Capital Markets, and Retail industries has forged a strategic alliance with Mastek to jointly offer specialized quality assurance services in the areas of automation, performance, and database testing for a Singapore based health care provider.
NuWare will also extend its service offerings to other Asia-Pacific customers on the remote infrastructure management & engineering services. NuWare is expected to grow its Singapore employee base to support their growth plans.
"With this strategic win NuWare has established a larger presence in the Asia-Pacific market with clients in countries like Singapore" said Visveswaran Kartik, Co-founder and Executive Director of NuWare. "NuWare has further strengthened its global footprint above and beyond its North American core market to deliver solutions in Big Data Analytics, Mobility, and RIM space."
To learn more about NuWare's Life Sciences Solutions, click here.
About NuWare Technology Corp.
NuWare is a leader in Cloud based Solutions, Infrastructure Management, Mobility and Social & Big Data Analytics. Our Innovation accelerates the competitiveness of our clients. NuWare develops solutions and provides professional services for Capital Markets, CPG, Retail, and Life Sciences industry verticals. Our solutions are used by Sales & Marketing, Operations, IT, and Supply Chain professionals for gaining deep insights from their data silos, rapid mobilization of both legacy and SaaS applications, remote infrastructure management, and social analytics. Our technology and services are designed to meet the needs of today's leading organizations. Several organizations in Life Sciences, Capital Markets, and CPG/Retail use our solutions.
NuWare partners with leading and innovative companies such as QlikView, Talend, MongoDB, CouchDB, Veliq, Cadis, MarkIT, Salesforce, Workday, Hortonworks, Greenplum, Oracle, Amazon AWS, Riak, Cassandra, Actian, Fonemine, Membase, MapR, Tableau, HBase, Datastax, Redis, and Valgenesis.
NuWare has offices in Santa Clara, Houston, Chicago, Iselin, Bangalore, and Macau. For more information about NuWare, visit its website at http://www.nuware.com