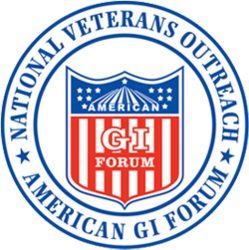 "we are most grateful to the American people for their attitude and favor of today's veteran" shares Ignacio Leija, Vice President of Client Service Operations.
San Antonio, Texas (PRWEB) January 03, 2012
America's oldest veterans "outreach" program will mark their 40th year of operation this March of 2012, in the City where it all began: San Antonio, Texas. The American GI Forum-National Veterans Outreach Program (NVOP) will recognize this accomplishment with a celebratory luncheon on March 23, 2012 at the Crown Plaza Hotel in downtown San Antonio, Texas. The President of United States, Barack Obama, has been invited as well as dignitaries from throughout the United States, including, U.S. Texas Senator John Cornyn and U.S. Secretary of Labor-Hilda Solis.
The year was 1972; the Vietnam War appeared to have no end in sight and many of our Military Men (and Women) were coming back home to much public disdain. Our veterans were experiencing a yet unnamed syndrome that inhibited their ability to cope with society, lack of employment opportunities, however, yearning to become productive citizens. The leadership of the American GI Forum, a national veteran's organization, saw the need to mobilize a grassroots "outreach" of seeking out veterans to assists them with the myriad of challenges and offer the supporting hand of fellow veterans. That simple formula for service was met with resounding success!
Today, the NVOP is fully engaged in providing a full array of services to every Veteran of all eras, especially the recently discharged Veteran of the Iraq-Afghanistan Wars, such as job placement classes, job training, case management and also placing the Homeless veteran in temporary housing or the NVOP's Veteran Residential Center. "There is no celebration when you have to take care of veterans in need, however, we realize the need is great and it is an awesome responsibility to be in charge of this organization" exclaimed Carlos Martinez-President of the NVOP. "The March luncheon will allow us the opportunity to showcase all the goodwill and the positive impact we reach in a veteran's life, daily!" Mr. Martinez continued.
The National Veterans Outreach Program's 40th year of operation will be highlighted with a luncheon on March 23rd, 2012 in San Antonio, Texas. Vice President of Client Service Operations, Ignacio Leija, said "we are most grateful to the American people for their attitude and favor of today's veteran" as he reflected on the organizations outreach.
The NVOP is seeking corporate partnerships and sponsorships to assist in underwriting the cost of the luncheon. Individual tickets and "reserved tables" will also be available to the general public.
For additional information contact:
Robert Flores @ (210) 382-3297 or rflores28(at)satx.rr.com
###