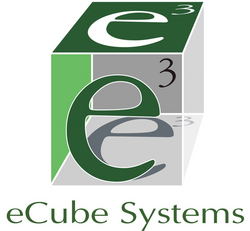 "Companies that require inter-operation between legacy business logic and contemporary Web services and those that need to replace legacy RPC, Entera or EZ-RPC middleware have a powerful option in NXTera 6.0," says Kevin Barnes,CEO of eCube Systems.
Houston, TX (PRWEB) January 7, 2010
eCube Systems®, a leading provider of tools and middleware products for enterprise systems, today announced the release of NXTera™ 6.0 High Performance RPC Middleware
The first major release of NXTera in over three years, NXTera 6.0, represents a significant step forward in the sophistication and capabilities of High Performance RPC Middleware. Simultaneously, NXTera 6.0 still guarantees plug and play compatibility for Entera- based applications.
NXTera™ 6.0, available in March of 2010, will include a comprehensive set of new features including: including a development workbench, new language support, application management tools, an updated broker, powerful Web Services generation, and support for new operating systems and databases.
eCube Extends RPC Middleware
The new NXTera workbench is an Eclipse-based IDE plug-in for the creation and maintenance of high performance RPC-based applications. It simplifies the maintenance and integration of Entera and NXTera applications with other contemporary architectures, such as J2EE, .NET, Google protocol buffers and Web Services.
To expend language support for NXTera and legacy Entera applications, eCube has developed NXTmake a new connector generator. NXTmake creates Java, C#, Python and C++ clients, enhancing existing support for C, FORTRAN, COBOL, Visual Basic, perl, PowerBuilder and Delphi languages.
Available for NXTera 6.0 is, NXTmind, an application management services for distributed applications. NXTmind has the ability to start, restart and shut down NXTera brokers, agents and servers. It also has the ability to monitor these services while they are running.
NXTera 6.0 continues its lead in performance and memory footprint, while adding persistence to the RPC broker. Now NXTera has the ability to persist bindings even if the server the broker process is running on fails. This feature will allow users to restart the server and broker without losing connections to NXTera, Entera or RPC-based application logic using the broker.
New platform support for NXTera 6.0 includes OpenVMS Integrity and Alpha, zLinux, and Mac OSX. Also new to NXTera 6.0 is support for Ingres 9.2 database and MySQL 5.0.
In addition, the NXTera 6.0 broker incorporates support for Network Address Translators or NATs, often used in virtual machines. This enables developers to access Entera or NXTera software servers over VPNs or through different class networks.
About NXTera
Whether working in the Cloud or in demanding computational and transactional environments, NXTera provides the performance required for high-speed distributed computing. NXTera is used to link application logic running on multiple enterprise servers to each other and to fast reliable, transactional databases.
NXTera™ 6.0 is next generation multi-threaded RPC middleware compatible with the respected Entera™ middleware product developed by the Open Environment Corporation. Both are widely used in Fortune 500 companies -- in many cases within heterogeneous environments that include Solaris®, AIX®, HP-UX®, Linux, Windows, zOS and OpenVMS.
"Companies that require inter-operation between legacy business logic and contemporary Web services and those that need to replace legacy RPC, Entera or EZ-RPC middleware have a powerful option in NXTera 6.0," says Kevin Barnes, President and CEO, eCube Systems. "The enterprise has evolved significantly since the introduction of RPC-based middleware. NXTera bridges the gap between legacy RPC-based applications and newer service-oriented technologies."
For more information on NXTera, visit [http://www.ecubesystems.com/nxtera_LM.html __ NXTera Product Page__]
About eCube Systems, L.L.C.
eCube Systems (http://www.ecubesystems.com) helps companies maximize return on technology investment by providing development tools, legacy evolution products and consulting services that extend enterprise systems. Fortune 1000 companies and government agencies turn to eCube Systems to reduce risk, extend ROI, and increase productivity as they develop high performance solutions and consolidate existing capabilities by evolving to and integrating with contemporary Web Services.
All other marks are the property of their respective owners. All other brand and product names are trademarks or registered trademarks of eCube Systems in the United States and other countries.
Information and Press Contact:
Peter Marquez
eCube Systems, L.L.C.
Tel: 866.493.4224 Ext 3
# # #