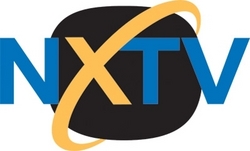 NxTV is continuing to prove that it is at the forefront of delivering media services to the hospitality industry.
Los Angeles, CA (PRWEB) February 14, 2008
NxTV, Inc., the first and largest provider of IP Video on Demand (IPVOD), IPTV and interactive digital IP-based in-room entertainment and technology solutions in the hospitality industry, today announced that it signed a comprehensive film and television VOD content licensing agreement with NBC Universal (NBCU).
The agreement allows NxTV the ability to offer hotel clients with multiple elements of NBCU content for a rental fee, which will include new release movies from Universal Pictures in HD, episodes from current primetime television shows and access to NBCU's library of archived films. NxTV launched its expanded NBCU HD and TV On-demand entertainment on October 1, 2007. In addition, NxTV's IP-based delivery enables it to provide hotels with current TV content the day after it airs nationwide.
"This is one of the most comprehensive hospitality entertainment agreements ever signed," said Richard Jenkins, Senior Vice President of Content for NxTV. "The NBCU film and television content give NxTV the largest line-up of quality movies and other top entertainment in the industry. Now, our customers can provide their guests with more revenue-generating options that are offered by other properties. With a current lineup of more than 250 movies and TV shows On-demand, no other in-room provider approaches the scope of what we can deliver to our hotel clients."
"NBC Universal recognizes the strengths of NxTV's in-room digital delivery technology and digital rights protection, and we are delighted to partner with NxTV in offering travelers a broad array of entertainment options," said Michael Bonner, Senior Vice President for NBC Universal Digital Distribution.
The agreement includes Universal's films in HD, such as "Balls of Fury," "Elizabeth the Golden Age," "American Gangster," "Eastern Promises," and "Charlie Wilson's War" as well as episodes from hit NBC TV series such as People's Choice Winner "Heroes," Emmy Award winner "Law & Order: SVU," Emmy Award winner "The Office," George Foster Peabody Award winner "Friday Night Lights," and Emmy Award winner "30 Rock."
"With the array of content and services that NxTV provides and will deploy in the near future, we allow our hotel customers to offer the very best guest experience," said Hooman Honary, President of NxTV. "NxTV is continuing to prove that it is at the forefront of delivering media services to the hospitality industry."
About NxTV, Inc.
NxTV, Inc. based in Los Angeles, California, was recently named to the prestigious Inc. magazine list of the 500 fastest-growing private companies in America. The company is the first and largest IP VOD provider in the global hospitality industry, delivering to its customers IP-based, 100% digital in-room entertainment solutions that allow hotel owners to take full advantage of new technology today and in the future, and offer guests the ultimate on-screen entertainment experience. NxTV's system runs over the hotel's existing converged IP network, which enables the property to communicate with a wide variety of in-room technologies without the cost and effort of installing and maintaining separate networks for each hotel application. The NxTV system delivers a full suite of digital IP-based in-room entertainment services including High Definition Video on Demand (HD VOD) and IPTV Free-to-Guest content, wired and wireless high-speed Internet access, and a customized guest interface.
Clients include the world's most prestigious hotel brands, including Four Seasons, Peninsula, Raffles, W Hotels, St. Regis, MGM Grand, Le Meridien, Marriott and Hyatt. NxTV, Inc. has offices and customers in the Americas, Europe and Asia.
About NBC Universal Digital Distribution:
NBC Universal Digital Distribution, a division of NBC Universal, drives the company's development of digital content and distribution in the areas of digital sales, digital platforms and wireless products. NBC Universal Digital Distribution manages product strategy and development for NBCU's content efforts by deploying it across multiple digital platforms including mobile, Internet portals, wireless carriers, emerging digital companies and nontraditional customers. In addition, NBCU Digital Distribution spearheads the company's development of industry leading technologies such as interactive television, on demand, electronic sell-through and IPTV. NBCU Digital Distribution also directs and manages the company's cable investments including A&E, The History Channel, History Channel International, The Biography Channel and the Sundance Channel.
Contacts:
Eric Stern
Director of Marketing and Planning
NxTV, Inc.
5700 Canoga Ave., Suite 150
Woodland Hills, California 91367
estern (at) nxtv.com
(818) 737-8267
http://www.nxtv.com/?campaign=PRWEBNBCUFeb14200
Media Contact:
Julie Keyser-Squires, APR
Softscribe Inc.
julie(at)softscribeinc.com
(404)256-5512
http://www.softscribeinc.com
###