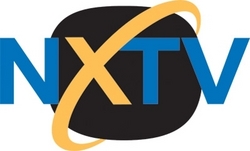 We are one of the very few service providers who architects and controls our end-to-end platform, including the STB. This allows us to target our customers' needs in an unprecedented fashion, and customize the solution at many more levels and much more cost effectively.
Los Angeles, CA (PRWEB) June 13, 2008
NxTV, Inc., the first and largest provider of Internet Protocol Video on Demand (IPVoD) in the hospitality industry, today announced a new converged platform capable of offering various forms of interactive IP-based in room entertainment and communications services to hotels and consumers. The scalable converged platform enables operators and hotels to cost-effectively create new recurring sources of revenue by giving consumers completely personalized access to more forms of content and information on a variety of end devices. Additionally, the platform simplifies and reduces the cost of hotel construction and operations.
"In today's competitive market, service providers and hotels alike strive to differentiate themselves from their competitors, while increasing revenue" said Hooman Honary, President and CTO of NxTV, Inc. "Hotels can use NxTV's converged platform to increase occupancy by attracting high-value guests, create new recurring streams of revenue, and drive construction and operational efficiencies" added Honary "We've spent 10 years improving what you now see as the converged platform, which provides unprecedented scalability and modularity. It is scalable from a property perspective - it can support small boutique properties as well as large casinos and resorts very cost effectively. It is also scalable from a content perspective, and from an infrastructure perspective - in that it is transport agnostic, allowing it to be offered over Ethernet, coax, or any other transport technology with enough bandwidth, including wireless. Additionally, it is very modular, allowing hotels to pick and choose their required services and applications according to the demographics of their guests, and the type of business model they would like to enable."
A key enabler of this platform is the introduction of NXTV's new Set Top Box (STB) the NXT1000. The NXT1000 is a state of the art IP-STB, capable of providing HD VoD and IPTV. The architecture of the box is very flexible in that it enables a "transport-agnostic" delivery of content, allowing it to operate over Ethernet today as well as coax and wireless in the near term future. Additionally, the modularity of the architecture enables new types of functionality to be added or removed easily, allowing different flavors of the box to be installed even as part of the same installation. "We will be announcing a series of very innovative applications and services based on this platform in the coming months", said Honary, "We are one of the very few service providers who architects and controls our end-to-end platform, including the STB. This allows us to target our customers' needs in an unprecedented fashion, and customize the solution at many more levels and much more cost effectively."
Another important component of the converged platform is the introduction of NXTV's fifth generation "middleware," which acts as a glue pulling the end-to-end architecture together. NXTV's flexible new middleware enables very high levels of customization at the user interface, backend interface, and applications integration. The middleware runs over both the NXT1000 STB as well as NxTV's application servers, allowing unprecedented levels of functionality and customization for the target customer/application.
Benefits to hoteliers of the NxTV converged platform include the ability to:
o Attract and maintain high-value guests via improved services;
o Significantly reduce start-up and operational costs of new builds;
o Create and improve recurring sources of revenue;
o Build a more productive and responsive staff via a single point of management.
Benefits to consumers of NxTV's converged platform include:
o Access to any form of content using any type of delivery system;
o Superior guest experience through the convenience of having all content on demand;
o Personalized access to consumers' usual social, online lifestyles via a unified user interface, and blended services between PCs and TVs.
In a related announcement today, NxTV inked partnerships with video server provider BitBand, and software-based content security provider Verimatrix to solidify NxTV's leadership for end-to-end IP based content delivery. Aruba Networks, a wireless LAN and mobility solutions provider,, will round out delivery of NxTV's converged platform.
About NxTV, Inc.
NxTV, Inc., founded in 1997 and based in Los Angeles, California, is the first and largest IP VOD provider in the global hospitality industry, delivering to its customers IP-based, 100% digital in-room entertainment solutions that allow hotel owners to take full advantage of new technology today and in the future, and offer guests the ultimate on-screen entertainment and communication experience. NxTV runs over the hotel's existing converged IP network, which enables the property to communicate with a wide variety of in-room technologies without the cost and effort of installing and maintaining separate networks for each hotel application.
NxTV delivers a full suite of digital IP-based in-room entertainment services including High Definition Video on Demand (HD VOD) and IPTV Free-to-Guest content, wired and wireless high-speed Internet access, and a customized guest interface. Clients include the world's most prestigious hotel brands, including Four Seasons, Peninsula, Raffles, W Hotels, St. Regis, MGM Grand, Le Meridien, Marriott and Hyatt. NxTV, Inc. has offices and customers in the Americas, Europe and Asia.
Contacts:
NxTV, Inc.
Hooman Honary
President and CTO
5700 Canoga Ave., Suite 150
Woodland Hills, California 91367
818.227.1225
http://www.nxtv.com/index.php?detectflash=false?campaign=PRWEBNxTVplatformSetJune132008
Media Contact:
Julie Keyser-Squires, APR
Softscribe Inc.
(404)256-5512
http://www.softscribeinc.com
###