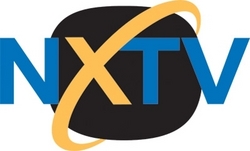 Hooman Honary is a world-class contributor to the state of the art of data and content delivery
Los Angeles, CA (PRWEB) October 17, 2007
NxTV, Inc., the first and largest provider of Internet Protocol Video on Demand (IPVOD, IPTV and interactive digital IP-based in-room entertainment and technology solutions in the hospitality industry, today announced it appointed Hooman Honary as Chief Technical Officer, and Eric Litwin as Senior Vice President of Applications Development. The appointments will drive NxTV's rapid expansion in digital IP communications delivery.
"Hooman Honary is a world-class contributor to the state of the art of data and content delivery," said Russell P. Reeder, President and COO of NxTV. "Hooman's extensive experience with Broadcom and Intel developing WiFi, WiMax, IP and digital media solutions, coupled with his industry experience from Oxford Media, is a perfect fit for NxTV that will drive its innovation and continued rapid expansion."
Mr. Honary's impact in the areas of multimedia communications and Internet wired and wireless architectures includes 21 patents in these fields.
Mr. Honary comes to NxTV from Oxford Media, Inc., where he was CTO, responsible for developing strategy, technology and products for a nationwide on-demand content delivery network. He was also the principal architect responsible for development of Oxford's next-generation video server and set top box technology and roadmap. Prior to his tenure with Oxford, Mr. Honary was with Broadcom, where he served as senior strategic technologist/wireless-multimedia architect, working on the wireless multimedia initiative as well as representing Broadcom in IEEE 802.11, WiFi Alliance and the WiMAX forum. Prior to that he was with Intel Architecture Labs, where he was a key contributor in numerous leading edge wireless and media initiatives including the next generation Intel Software Defined Radio architecture "Reconfigurable Communications Architecture" (RCA). He came to Intel as part of the acquisition of VxTel, a company he joined early on which developed high performance signal processors for VoIP processing.
Mr. Honary's role with NXTV will include the formulation of technology strategy for various product lines and new services and applications, contribution to the standardization of next generation technologies, involvement in creation of product and technology roadmaps, and the establishment of market alliances with companies possessing products and technologies that are strategic to NXTV's initiatives. As an expert in the field of multimedia communications, he will also publish whitepapers, and be involved with media activities including interviews and customer interactions.
In order to enable a world-class service provider back-office infrastructure, NxTV also tapped Eric Litwin as its new Senior Vice President, Applications Development. In his new position, Mr. Litwin will be responsible for architecting and enhancing NxTV's back office and transactional processing capabilities to support the company's growth in hospitality and other industries. Litwin joins NxTV from Countrywide Capital Markets, a division of Countrywide Financial Corporation, where he guided the technical direction of the company's systems enhancement as Senior VP, Information Technology. Prior to his tenure at Countrywide, Mr. Litwin was a senior consultant with Arthur Andersen Business Consulting. Mr. Litwin holds an MBA from the USC Marshall School of Business in Los Angeles.
About NxTV, Inc.
NxTV, Inc., based in Los Angeles, California, was recently named to the prestigious Inc. magazine list of the 500 fastest-growing private companies in America. The company is the first and largest IP VOD provider in the global hospitality industry, delivering to its customers IP-based, 100% digital in-room entertainment solutions that allow hotel owners to take full advantage of new technology today and in the future, and offer guests the ultimate on-screen entertainment experience. NxTV's system runs over the hotel's existing converged IP network, which enables the property to communicate with a wide variety of in-room technologies without the cost and effort of installing and maintaining separate networks for each hotel application. The NxTV system delivers a full suite of digital IP-based, in-room entertainment services including High Definition Video on Demand (HD VOD) and IPTV Free-to-Guest content, wired and wireless high-speed Internet access, and a customized guest interface.
Clients include the world's most prestigious hotel brands, including Four Seasons, Peninsula, Raffles, W Hotels, St. Regis, MGM Grand, Le Meridien, Marriott and Hyatt. NxTV, Inc. has offices and customers in the Americas, Europe and Asia.
Contacts:
Eric Stern
Director of Marketing and Planning
NxTV, Inc.
5700 Canoga Ave., Suite 150
Woodland Hills, California 91367
(818) 737-8267
http://www.nxtv.com?campaign=PRWebHoomanCTOoct172007
Media Contact:
Julie Keyser-Squires, APR
Softscribe Inc.
(404)256-5512
http://www.softscribeinc.com
###