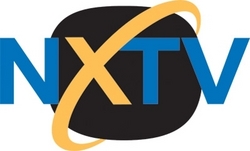 We absolutely needed to increase the quality of our standard definition product as the majority of our luxury hotels now have either plasma or LCD sets in their rooms
Los Angeles, CA (PRWEB) January 23, 2008
NxTV, Inc., the first and largest provider of IP Video on Demand (IPVOD) IPTV and interactive digital IP-based in-room entertainment and technology solutions in the hospitality industry, today announced its list of the top ten movies viewed by guests in 2007. These were the most viewed Video on Demand Hollywood movies, based on total receipts, in domestic properties served by NxTV during the year:
1. Borat - Twentieth Century Fox
2. The Departed - Warner Brothers
3. Casino Royale - MGM (HD)
4. Knocked Up - NBC Universal (HD)
5. Wild Hogs - Disney
6. 300 - Warner Brothers
7. Spiderman 3 - Sony Pictures
8. Blades of Glory - DreamWorks/Paramount (HD)
9. Night at the Museum - Twentieth Century Fox
10. The Bourne Ultimatum - NBC Universal (HD)
"NxTV's advanced IP platform enables the rapid and secure distribution of the industry's most popular entertainment content to thousands of hotel rooms worldwide," said Richard Jenkins, Senior Vice President of Content for NxTV. "Both our digital standard definition (SD) and HD programming is very well received by guests who enjoy a wide range of entertainment when they travel to NxTV hotels. This demand is increasing exponentially as more and more of our upscale hotel base is investing in flat-panel plasma and LCD HD television technology."
As a result of this migration to flat-panel sets, NxTV further announced that all of its standard definition content going forward will be encoded at a higher bit rate and at a better resolution. The move from its current encoding specification of half D1 at 4 Mbps to full D1 at 6 Mbps will deliver true 16x9 widescreen DVD-quality picture to its hotel guestrooms. NxTV is already delivering selected titles in HD and has seen an increase in buy rates at those hotels with the company's HD set top box installed.
"We absolutely needed to increase the quality of our standard definition product as the majority of our luxury hotels now have either plasma or LCD sets in their rooms," explained Jenkins. "NxTV currently has the largest selection of films in the industry, with over 200 titles available at anytime to all of our US hotels. With the enhanced quality of our SD movies and the fantastic experience already being enjoyed with our HD titles, we really believe we can deliver better value to our customers and therefore higher revenues to the studios moving forward into 2008."
NxTV has enjoyed strong growth recently, receiving recognition on the 2007 Inc. Magazine list of America's 500 fastest-growing private companies, ranking #389 with sales growth of over 700% from 2003-2006. Last fall, the company also received accolades from the San Fernando Valley Business Journal as the second fastest-growing private company in the San Fernando Valley, and from the Los Angeles Business Journal as the 10th fastest-growing private company in LA.
About NxTV, Inc.
NxTV, Inc., based in Los Angeles, California, was recently named to the prestigious Inc. magazine list of the 500 fastest-growing private companies in America. The company is the first and largest IPVOD provider in the global hospitality industry, delivering to its customers IP-based, 100% digital in-room entertainment solutions that allow hotel owners to take full advantage of new technology today and in the future, and offer guests the ultimate on-screen entertainment experience. NxTV's system runs over the hotel's existing converged IP network, which enables the property to communicate with a wide variety of in-room technologies without the cost and effort of installing and maintaining separate networks for each hotel application. The NxTV system delivers a full suite of digital IP-based in-room entertainment services including High Definition Video on Demand (HD VOD) and IPTV Free-to-Guest content, wired and wireless high-speed Internet access, and a customized guest interface.
Clients include the world's most prestigious hotel brands, including Four Seasons, Peninsula, Raffles, W Hotels, St. Regis, MGM Grand, Le Meridien, Marriott and Hyatt. NxTV, Inc. has offices and customers in the Americas, Europe and Asia.
CONTACTS:
Eric Stern
Director of Marketing and Planning
NxTV, Inc.
5700 Canoga Ave., Suite 150
Woodland Hills, California 91367
estern(at)nxtv.com
(818) 737-8267
http://www.nxtv.com/?campaign=PRWebTop10Jan232008
Media Contact:
Julie Keyser-Squires, APR
Softscribe Inc.
julie(at)softscribeinc.com
(404)256-5512
http://www.softscribeinc.com
###