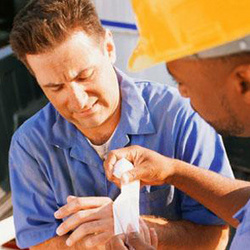 The New York construction accident lawyers at Block O'Toole & Murphy have years of experience successfully representing injured construction workers in construction accident lawsuits.
New York, NY (PRWEB) February 24, 2010
The New York construction accident attorneys at Block O'Toole & Murphy are pleased to offer legal articles and videos for individuals who have been injured in workplace construction accidents. New York construction workers who have suffered an injury on the job can now visit ConstructionAccidentsNY.com to find helpful information about their legal rights. The construction accident lawyers at the firm, one of New York's premier injury law firms, have recovered numerous multimillion dollar verdicts and settlements for their clients and look forward to sharing their knowledge and results with you.
The Workplace Information section of ConstructionAccidentsNY.com features articles about construction injuries, types of construction accidents, and causes of workplace accidents. Videos featuring insight and commentary from firm partners Jeffrey Block, Stephen Murphy, and Daniel O'Toole are also available for site visitors to review. Whether you have been injured in a scaffold accident, construction site fall, or any other type of construction accident, these resources can help you understand your legal rights and options for pursuing compensation.
Workers in the construction industry are constantly at risk for workplace accidents due to the physical nature of their work and the dangerous equipment and conditions present on job sites. Despite the fact that New York construction accidents are fairly common, many construction workers are unsure of what to do after suffering an injury on the job. The New York construction accident lawyers at Block O'Toole & Murphy are familiar with all of the laws that exist to protect the rights of construction workers and can guide you through the process of obtaining the compensation you deserve.
If you or a loved one has been injured in a New York construction accident, it is important to speak to an experienced construction injury attorney as soon as possible in order to make sure your rights are protected. Block O'Toole & Murphy offers a Free Consultation to all potential clients so that you can explore your legal options. Visit ConstructionAccidentsNY.com today and fill out the details of your construction accident in the contact form.
About Block O'Toole & Murphy
Block O'Toole & Murphy is one of the premier personal injury law firms in New York City. The construction accident attorneys at Block O'Toole & Murphy, LLP have a long and proud tradition of representing laborers of all kinds who have been injured on the job. They are well versed in New York's Labor Law and have recovered hundreds of millions of dollars on behalf of injured construction workers. Visit ConstructionAccidentsNY.com for a Free Case Evaluation and information about your legal rights.
###