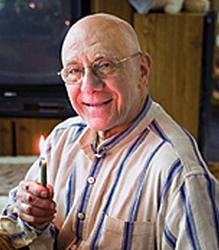 The Art of Healing and Living: A Surgical Faith Lift
Averill Park, NY (Vocus) March 9, 2010
The American Meditation Institute in Averill Park, New York will host two seminars teaching meditation and yoga as mind-body medicine. Acclaimed holistic health pioneer Dr. Bernie Siegel will present "The Art of Healing and Living: A Surgical Faith Lift," April 17, 2010. Leonard Perlmutter, American Meditation Institute founder, and Beth Netter, MD will present "Cancer Care: The Healing Power of the Mind" April 14, 2010.
Dr. Siegel, who prefers to be called Bernie, graduated Cornell University Medical College and completed his surgery training at Yale-New Haven Hospital. In his early years of practice as a surgeon Dr. Siegel learned how influential the mind could be in healing the body. In the late 1970s Bernie met and taught with Swami Rama of the Himalayas, Leonard Perlmutter's teacher and the yoga scientist credited with establishing meditation and yoga as reproducible mind-body medicine techniques in the West. Last year, while reading Mr. Perlmutter's 'Transformation' journal, Dr. Siegel was delighted to discover that AMI's Holistic Mind-Body Medicine course, "The Heart and Science of Yoga", had received CME (continuing medical education) accreditation from the American Medical Association through the Albany Medical College. He remembered Swami Rama's vision of bringing this knowledge to physicians, healthcare practitioners, and people suffering from disease and illness.
Throughout his illustrious career Dr. Siegel has cared for and counseled people whose lives have been threatened by illness. He embraces an inspirational philosophy of living and dying that stands as a beacon of clarity for today's medical ethics and spiritual issues. Bernie has worked tirelessly with patients to help them heal and to address issues regarding disease and mortality. He is the originator of the Exceptional Cancer Patients therapy clinic in New Haven, Connecticut, former president of the American Holistic Medical Association and award-winning author of 'Love, Medicine & Miracles'; 'Peace, Love & Healing' and 'How To Live Between Office Visits'. His numerous written works (including many books for children) have helped thousands of individuals in their healing process by teaching them how to view healing and dying from a positive, holistic perspective.
At his American Meditation Institute workshop Dr. Siegel will discuss survival behavior and the interplay of mind and body. According to Dr. Siegel, "End of life issues will be discussed to empower individuals to live fully and die free of conflict. I recommend this workshop," Bernie says, "not only for those who are already confronting their mortality and life's inevitable difficulties, but also for their families and loved ones." Tickets for the Dr. Bernie Siegel event are available through The American Meditation Institute. Seating will be strictly limited to 100 people.
In addition to the Dr. Bernie Siegel event, the American Meditation Institute will also host "Cancer Care: The Healing Power of the Mind" workshop with Leonard Perlmutter and Beth Netter, MD on Wednesday evening April 14, 2010 from 6:30 to 8:30 PM.
Mr. Perlmutter is founder of The American Meditation Institute and author of the award-winning book 'The Heart and Science of Yoga'. Noted physicians Mehmet Oz, Dean Ornish and Larry Dossey have endorsed Mr. Perlmutter's book, which serves as the curriculum for a mind-body medicine CME course on meditation and yoga accredited by the AMA. Dr. Netter is a holistic physician practicing mind-body medicine in Albany, New York.
In the 'Cancer Care' workshop Perlmutter and Netter will present a variety of meditation, yoga and breathing techniques that enable the mind to assist in the healing process. Cancer patients must often endure bouts of fear, anger, anxiety and depression. When the mind is disturbed, it is difficult to make crucial decisions or relate satisfactorily to others. Breathing practices, meditation and gentle yoga exercises help transform physical, mental and emotional tension into a healing force that boosts the immune system, improves sleep patterns, reduces pain, builds self-confidence and enhances an overall sense of well-being.
About the American Meditation Institute
The American Meditation Institute is a 501(c)3 non-profit educational organization devoted to the teaching and practice of Yoga Science, meditation and its allied disciplines as mind-body medicine. In its holistic approach to wellness, the AMI combines the healing arts of the East with the practicality of modern Western science. The American Meditation Institute offers a wide variety of classes, retreats, and teacher training programs. AMI also publishes 'Transformation,' the journal of Yoga Science as mind-body medicine. Call 800.234.5115 for a mail or email subscription.
Media Contact:
Mary Helen Holloway
60 Garner Road, Averill Park, NY 12018
Tel: 800-234-5115
Fax: 518-674-8714
###