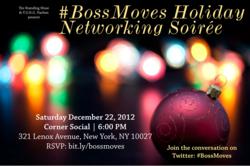 New York, NY (PRWEB) December 20, 2012
The Branding Muse, an organization that focuses on personal branding, and Y.U.N.G Harlem, winners of the 2012 Black Girls Rock Making a Difference(M.A.D) Award, have partnered to host a holiday networking event on December 22, 2012 at 6 p.m. This event will be held at Corner Social in Harlem and bring together young professionals throughout New York City for a night of networking and holiday celebration.
The founder of The Branding Muse, Emmelie De La Cruz, decided to create the event after the #BossMoves Black Enterprise twitter chat hosted by Janell Hazelwood. "Many motivated women wanted to come together for some face-to-face networking and the planning just took off," she recalled. "My hope is that we can build the connections necessary to propel us to greater heights as ambitious young people," she continued. The event is being supported by fellow Syracuse University alumna, Tiffany Bender and the Y.U.N.G Harlem team, who promote positive youth involvement in local minority communities like Harlem through the arts, health, education, community safety and entrepreneurship.
Special guest, Janell Hazelwood, associate producer of career content on BlackEnterprise.com will be in attendance along with other young professionals and New York business owners. Attendees are being encouraged to bring an unwrapped toy to be donated to the Harlem Dowling Center.
Raffle prize sponsors and gift bag contributors include She Got Papers, a chic stationery company based in New York City and the ladies of M3Glam. "She's Got Papers, is synonymous with strengthening the connection to those we love through written correspondence. We are proud to take part in Boss Moves as this event strives to make the connections that will help to build our respective businesses," said Tanea Smith, founder.
To learn more and RSVP for the event visit: http://bit.ly/bossmoves
About The Branding Muse
The Branding Muse works to assist college students and young professionals with the development of their personal brands. By creating resources to simplify personal branding, The Branding Muse empowers its community to take control of their online and offline presence.
About Y.U.N.G. Harlem
Y.U.N.G. Harlem is a nonprofit organization that was founded in 2008 by Alize Beal and Tiffany Bender. It strives to build a positive plateau for the inner city youth neighborhoods in Harlem and the Bronx through arts, education, health and entrepreneurship programs.