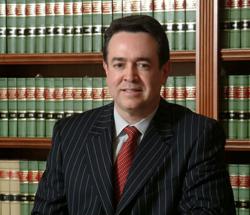 When any serious construction site accident occurs, it should lead to heightened scrutiny of safety procedures, equipment and training at construction sites throughout the region[.]
New York, NY (PRWEB) August 02, 2012
New York / New Jersey construction injury lawyer Joseph A. Ginarte today said that the seventh construction accident at the World Trade Center this year should call attention to the importance of proper training, equipment and supervision at construction sites.
According to DNAinfo.com, a local news source covering New York City neighborhoods, the latest accident occurred July 13. An ironworker suffered injuries at 3 World Trade Center when a beam rolled over him as he was rigging it to be lifted, which required him to be taken to Bellevue Hospital, the news outlet said.
"When any serious construction site accident occurs, it should lead to heightened scrutiny of safety procedures, equipment and training at construction sites throughout the region, especially at the World Trade Center, where many accidents have occurred this year," said Ginarte, founder of Ginarte O'Dwyer Gonzalez Gallardo & Winograd, LLP, which focuses on representing New York and New Jersey construction injury victims.
According to DNAinfo.com, six other construction accidents have occurred at the WTC site this year:

February – A crane dropped steel beams 40 stories.
April – An ironworker fell five feet from a scaffold and cut his head. He was saved by his safety harness.
May – A construction worker fell from a scaffold, and plywood fell on top of him.
June 12 – Fire broke out at 4 World Trade Center.
June 26 – A construction worker was impaled on a metal rod.
June 27 – A crane carrying beams crashed into the side of a building, shattering windows near the top of the building.
Ginarte said he did not know the circumstances of the WTC accidents, and he acknowledged that construction work has inherent safety hazards.
But, he said, strict federal Occupational Safety and Health Administration (OSHA) regulations and NY and NJ worksite regulations exist to address the hazards of construction work.
"Construction accidents will happen," the veteran attorney said. "But if workers are injured because safety regulations have been ignored, safety equipment is faulty, or workers have not been properly trained, that isn't simply an accident. That's negligence.
"And when New York and New Jersey construction workers are injured on the job because of their supervisors' or employers' negligence, they have legal rights and options that they should discuss with an experienced construction accident attorney as soon as possible after they are hurt," Ginarte said.
About Ginarte O'Dwyer Gonzalez Gallardo & Winograd, LLP
For more than 30 years, the law firm of Ginarte O'Dwyer Gonzalez Gallardo & Winograd, LLP, has represented injured workers in all kinds of New York and New Jersey construction site injuries, including cases arising from on-the-job accidents, industrial injuries and wrongful death claims for dependents. The firm's team of 25 lawyers and 100 staff members can assist clients with workers' compensation, Social Security disability and third-party personal injury claims. The Ginarte law firm features offices in New York City, Newark, Elizabeth, Clifton, Union City and Perth Amboy. The firm's Newark office is located at 400 Market Street, Newark, NJ, 07105 (local phone (973) 854-8400). The firm can assist Spanish-speaking and Portuguese-speaking clients. To learn more, call 1-888-GINARTE or use the firm's online contact form.