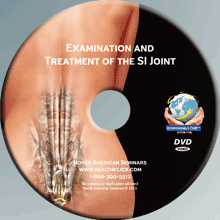 This online course will help therapists in the development of treatment plans by applying muscle energy, joint mobilization and muscle re-education techniques for the SI Joint
Franklin, TN (PRWEB) June 17, 2013
This online PT CEU course provides detailed description of SI Joint physical examination testing, including how to rule out the lumbar spine and hip joint as potential pain generators. The physical therapy continuing education course delivered online and by DVD contain content and supplemental written material that provides the clinician with great detail on how to perform examination of the SI joint/pelvic girdle, the tests to implement, what patients they should be performed on, what entails a positive (or negative test), and the diagnostic accuracy of such tests. A great feature of this continuing education course and written material is the interventions shown and described. The clinician can clearly see how to perform manual therapy, stretching, and strengthening techniques as they apply to the SI joint/pelvic girdle pain patient. Detailed information regarding proper set-up, hand placement, technique, re-assessment, and EMG values (exercises) are given in order for the clinician to make informed decisions on which interventions are most clinically applicable in their various types of patients.
Effective September 1, 2009 to renew NY registration as a physical therapist or physical therapy assistant, New York State Education Law requires the completion of 36 hours of approved continuing education in each three year renewal period. The New York State Education Department, Office of the Professions has approved North American Seminars as a continuing education sponsor for physical therapists and assistants licensed in New York.
This NY State approved online continuing education course would contribute 12 hours of continuing education credir towards renewal registration. More information can be found at http://www.healthclick.com/courses/nas250.php.