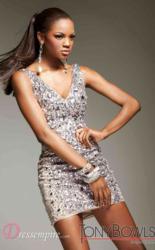 DressEmpire.com has reformed the typical online shopping experience by means of offering unsurpassed customer service, highly desirable merchandise, and unparalleled convenience
New York, NY (PRWEB) November 26, 2012
With New Year's Eve just around the corner, New York City-based business DressEmpire.com is pleased to announce their huge selection of New Year's Eve dresses and club dresses that are just perfect for bringing in the New Year. Start shopping now to ring in 2013 in style.
New Year's Eve is a time that is meant to be celebrated in style. People everywhere gather to celebrate with friends and family, to toast to the future, to sip cocktails and to make resolutions for the upcoming year. Whether celebrating in Times Square to watch the ball drop or toasting with champagne at a nearby restaurant or club, choosing what to wear accordingly can, of course, set the mood for the entire night. The mood can be set right this year with the large selection of New Year's Eve dresses and club dresses available at Dress Empire.
Dress Empire knows their customers well. Dress Empire recognizes a woman's need to feel and look absolutely fabulous at major events. New Year's Eve is the perfect night to dress up. Whether searching for a formal dress or a short, cute cocktail dress, Dress Empire has everything one could possibly need to stand out amongst the crowd. Abraham Natanzadeh, Head of Sales and Business Development for Dress Empire, released the following statement: "Those celebrating in Times Square know that the area will be packed with people from all over the world. Having a general idea of just how huge the crowd is at Times Square on New Year's Eve would make many people think that it is just too difficult to stand out. Dress Empire provides many options, however, for doing so, no matter where in the world you just so happen to be celebrating."
Natanzadeh added, "DressEmpire.com is excited to offer a vast array of the newest dresses available for New Year's Eve from some of the world's most popular and reputable designers. Shoppers will be delighted with their effortless, secure shopping experience."
Shop Dress Empire and choose from popular, reputable designers such as Tony Bowls, Jovani, Scala, La Femme, Lara and a whole lot more. With a huge range of colors available such as brown, black, fuchsia, turquoise, pink, lavender, white, yellow, gold and more, the options are just about endless. With many colors and styles come options for every person regardless of skin tone or hair color. Stand out patterns are also available for those who want more than just a solid color.
Dress Empire's commitment to meeting and exceeding their customer's expectations is evident in their diverse, continuously updated selection of beautiful dresses. The staff at Dress Empire is incredibly reliable and always ready to assist customers with their orders. The company's vision is to provide customers with the latest and greatest dresses from world renowned designers. Dress Empire is following through with said vision by offering the newest and most fashionable New Year's Eve dresses and club dresses on the market. Shoppers can take their pick from a variety of world renowned designers and collections. Whether on the market for a long sleeve dress, short cocktail dress, sequined slinky dress or a perfect form-fitting dress, shoppers are sure to appreciate the huge selection of New Year's Eve dresses and club dresses available at Dress Empire.
Natanzadeh enthusiastically stated, "Dress Empire believes it has reformed the typical online shopping experience by means of offering unsurpassed customer service, highly desirable merchandise, and unparalleled convenience. Customers can be confident that they are purchasing a great dress, by a great designer, at a great price, all of the time. We are looking forward to seeing the sales results of our New Year's Eve dresses and club dresses this year."
Dress Empire certainly seems to be a great bet when it comes to New Year's Eve dresses and club dresses for 2013. The staff is incredibly helpful, informative and excited to assist their customers with dress concerns. Take a look at the wide selection of New Year's Eve dresses and club dresses available at Dress Empire.
About Dress Empire
Dress Empire is a dress shop that offers a simple, secure and convenient shopping experience. Located in the fashion capital of the world, shoppers will find the most popular names in fashion from all across the globe right at their fingertips. Dress Empire also offers worldwide shipping so customers can shop from anywhere – literally. Those browsing the Internet and stores for New Year's Eve dresses and club dresses will surely find just what they are looking for at Dress Empire. Contact information for Dress Empire is listed below.
Contact
For more information, browse Dress Empire.com
Abraham Natanzadeh, Head of Sales and Business Development
224 W. 35th Street
Suite 1007
New York, NY
10001
Phone: 1-212-292-8888
Call Toll-Free: 1-888-655-2998