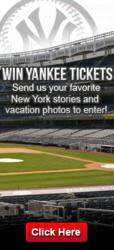 "We are thrilled to offer our customers this added value - which is perfect for the entire family, travel groups, groups of friends or just about anyone planning a fun-filled New York vacation!"
New York, NY (PRWEB) September 28, 2011
NY SKYRIDE, the leader of virtual New York City tours, is pleased to announce their weekly New York Yankee free ticket give-away.
"We want to hear from our customers who have a New York vacation story to tell," stated Marilyn Rivera, Group Sales & Marketing at NY SKYRIDE, "and we want to see their fun NYC vacation photos, too."
Boasting over 10 million happy visitors since 1995, the NY SKYRIDE is a unique aerial virtual tour simulator ride which provides New York City tourists a perfect introduction to the City with an all-inclusive virtual tour which moves in sync to an 18-foot high-definition screen. Narrated by actor Kevin Bacon, your 30-minute adventure, takes you across the New York skyline on a unique journey around nearly three dozen famous NYC landmarks.
This NY SKYRIDE promotion invites New York City vacationers to send their stories, unique NYC vacation experiences and New York vacation photos to NY SKYRIDE to enter to win free Yankee tickets. Drawings occur weekly and tickets are distributed in blocks of 4 seats.
Marilyn Rivera continues, "We are thrilled to offer our customers this added value - which is perfect for the entire family, travel groups, groups of friends or just about anyone planning a fun-filled New York vacation!"
For more information on qualifying for Free New York Yankees Tickets:
Visit: NY SKYRIDE
Call: 1-888-SKYRIDE
About NY SKYRIDE:
New York Skyline, Inc., a wholly owned subsidiary, owns and operates the "NY SKYRIDE," a multi-million dollar, flight simulator attraction located in the Empire State Building. From its inception, New York Skyline's location based entertainment concept maintains a consistent philosophy of providing quality entertainment for the entire family. Using state of the art technology, the NY SKYRIDE provides unique on-site entertainment experience for guests of all ages with worldwide appeal.
###