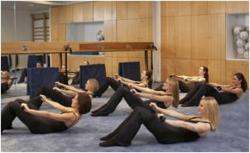 Now having the ability to choose from different class levels will help me to challenge my body all summer long
New York, NY (PRWEB) June 02, 2011
Exercise hotspot Physique 57® increases its commitment to the historic Butter Lane Barn in Bridgehampton with a 4,000 square foot expansion and renovation.
Physique 57® Bridgehampton has occupied just 1,000 square feet in the Butter Lane Barn for the past five years and is proud to bring its clients more studio space along with beautiful renovations throughout the facility. Physique 57®'s devoted clients will now enjoy two spacious exercise studios, air conditioning, shower facilities, a welcoming, sunny patio and the addition of the popular Physique Boutique which will carry top fitness labels.
"This expansion will allow us to offer more classes, different class levels and the convenience of a retail boutique. With a growing clientele in the Hamptons, the expansion was necessary. Our waitlists have been out of control," explains Owner, Jennifer Vaughan Maanavi.
Catherine Canino, a long time Physique 57® fan and annual member says "I was thrilled when I heard the news about Physique 57's expansion in the Hamptons. I love taking their classes in the city because there are so many class times and levels to choose from. As a working mother, my schedule changes from day to day so having these options during the summer in Bridgehampton will allow me to get my workouts in every day. Plus, now having the ability to choose from different class levels will help me to challenge my body all summer long."
Physique 57 is nationally renowned high-end fitness studio and fitness DVD producer and distributor. Since its launch in 2006, Physique 57 has had rapid growth in its customer base and currently owns and operates fitness studios located in New York City, Los Angeles, and The Hamptons. The fitness studios and award winning exercise DVDs feature Physique 57's signature line of innovative, ballet barre-based fitness classes -- a focused and proven cardiovascular program of isometric exercises and orthopedic stretches.
For more information about Physique 57, please visit http://www.physique57.com
###