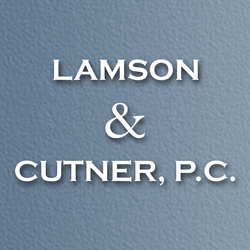 When we looked...at our own website and at websites presented by other law firms, we realized that there was plenty of information...about Elder Law, but we felt people were...left to try to figure out for themselves how the laws and rules applied to them
New York, NY (PRWEB) December 9, 2009
Top Elder Law attorneys, Lamson & Cutner, P.C., have launched a special website that takes a new direction in presenting information of interest to people who are concerned about long-term care, and how to pay for it.
According to founding partner, David Cutner, "When we looked online, both at our own website and at the websites presented by other law firms, we realized that there was plenty of information available on the Internet about Elder Law, but we felt that people were too often left to try to figure out for themselves how the laws and rules applied to them. We decided that we wanted to organize and present information in a way that was focused precisely on people's own circumstances.
For example, if you are a widow or widower in declining health and in need of assistance in your home, you will likely be interested in knowing about how to obtain Medicaid home care services, and how to preserve your assets and income in order to maintain your quality of life. If you are married and your spouse needs to go into a nursing home, your concerns are different – you will likely be interested in knowing how to obtain Medicaid nursing home benefits for your spouse, and how to preserve your joint assets so that you can continue to enjoy your lifestyle. Our new website tries to respond to the differing concerns of people in different circumstances."
The Lamson & Cutner website invites visitors to "Click to Find Your Situation." They will find a thorough discussion that addresses their concerns, whatever their situation (single, married couple, unmarried couple, gay couple, or disabled), or their needs (home care, nursing home care, supplemental needs trust, Medicaid denial, estate planning).
This informative website contains many additional features. There is a library of Videos on Elder Law where visitors can see Carole Lamson and David Cutner present their views on subjects such as "What an Elder Law Attorney Can Do for You and Your Family" or "How to Get Nursing Home Care on Terms that Benefit You."
Users of the website will also find the full text of a Special Report for Seniors, the Disabled, and Their Families, written by David Cutner, entitled "25 Strategies to Prevent Financial Ruin from Long-Term Health Care Costs." This special report provides detailed and in-depth coverage of important issues, written in a style that is easy to read and understand.
The website also provides the broadcast schedule for David Cutner's appearances on the informative radio show, "Health Talk." This is live, talk radio on WMCA 570 AM or streaming audio on http://www.nycradio.com, where David Cutner answers listeners' questions about their personal situations pertaining to long-term care, trusts, Medicaid, advance directives, and related subjects. For example, a listener's question on a recent show about "spousal refusal" led to an extended discussion about this critically important topic for married couples when one spouse applies for Medicaid.
Of course, on the website, visitors will also meet the attorneys and staff, read about some of their successes, and see testimonials from clients. The attorneys and staff at Lamson & Cutner are passionate about their work, and particularly proud of the results they achieve for their clients. A consultation with Lamson & Cutner to inform seniors or disabled persons of their rights and their options is strongly recommended if long-term is or may be needed.
###