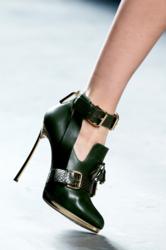 Times Square Hotels welcome attendees to the New York Shoe Expo and other June NY events.
New York, NY (PRWEB) May 20, 2013
Hotels such as The Manhattan - a Times Square Hotel, prepare to welcome visitors to the Fashion Footwear Association of New York, or FFANY and other NY events by offering money-saving specials. View details.
New York Shoe Expo
When: June 5 through June 7
Where: 1335 Avenue of the Americas New York, NY 10019
New York City is well-established as a hub of fashion, and what is fashion without the right pair of shoes? The New York Shoe Expo is one of the many NY events that give those working in the fashion industry an opportunity to see the latest trends and get a jump on the hottest styles for the upcoming seasons.
This year, the NY Event will take place from June 5 through June 7, and will kick off with an industry party. The party is a great chance for networking and to learn about all of the other activities available during the New York Shoe Expo.
Hosted by the Fashion Footwear Association of New York (FFANY), this year the NY event has partnered with Shoes that Fit. Shoes that Fit, a charitable organization that gives shoes to children in need, has partnered with FFANY to raise money. All of the money collected through ticket sales to the industry party will benefit Shoes that Fit.
More than 300 footwear manufacturers will be present with more than 800 brands represented. Attendees to this NY event will be able to see the latest trends, meet with manufacturers, attend industry-related seminars and do some networking.
FFANY's New York Shoe Expo grows each year, and this will be the biggest event yet. Those planning to attend should book their room well in advance as many hotels will be sold out due to this and other NY events. The Manhattan – A Times Square Hotel is a great choice.
About The Manhattan- A Times Square Hotel:
With the ultimate New York location guests are just steps from exciting Times Square, the Broadway Theater District, Central Park, Empire State Building, and neighborhoods of Greenwich Village and SoHo to Central Park, Rockefeller Center, and Madison Avenue.
Visit The Manhattan - A Times Square Hotel Website.
Check Rates, Make Reservations or call toll free: 800.610.5386
Read interesting New York Travel Articles on our New York Hotel Blog.