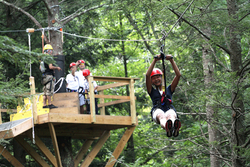 The construction of a course on this scale has been a massive undertaking, but now with our three different tours, we'll be able to offer something for almost every thrill level - from mild to extremely wild.
Hunter, NY (Vocus) November 18, 2010
Coming off a hugely successful first season of operation, NY Zipline Adventures at Hunter Mountain is poised to raise the bar for adventure tours this winter with the opening of the largest zipline course in North America. Two of the three planned courses opened at the Hunter Mountain location this spring to rave reviews and sold out tours while the third and largest, the SkyRider Tour, completed construction. Over 12,000 guests have cycled through the Mid Mountain Tour and Adventure Tower since opening.
"The Mid Mountain Tour and Adventure Tower are both great introductions to Ziplining and ropes courses, and a good way to get some people ready for the upcoming SkyRider Tour," explains Bradd Morse, partner in NY Zipline Adventures, the company that operates the Zipline tours at this popular New York ski resort. "The three courses here at Hunter Mountain contain multiple Ziplines, bridges and challenge elements and are each designed to create a very different experience for the guest, but the SkyRider tour is not for everyone," says Morse. "Honestly, the Mid Mountain Tour and Adventure Tower are plenty of excitement for most people". With heights of up to 600' feet above the ground and some Ziplines spanning over 3000' from platform to platform, he's not kidding. The Skyrider course will be one of the largest and most intimidating tours of its kind in the world.
Morse continues, "The construction of a course on this scale has been a massive undertaking, but now with our three different tours, we'll be able to offer something for almost every thrill level - from mild to extremely wild. The fact that we are so close to the metro area also means that we are able to operate year round. It's a great partnership and we are really excited to bring this world class attraction to New York."
NY Zipline Adventures will be sending out invitations to select media contacts for a special "first look" press event being held in advance of the planned SkyRider opening. To request an invitation/press pass for this event in advance, please contact Allan Guilbeault via email at: allan(at)upcountrycreative(dot)com
For further information on the ziplines, visit http://www.ziplinenewyork.com
Media Contact:
Allan Guilbeault, Marketing Director
allan(at)upcountrycreative(dot)com
603.204.9912
###