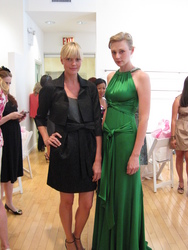 I have found that there is nothing more meaningful than being able to use your talents to help out those who are most in need
New York, NY (PRWEB) July 29, 2008
Educational and Research Foundation for the American Academy of Facial Plastic and Reconstructive Surgery (AAFPRS) and Rickie Freeman, owner and designer of Teri Jon, have come together in support of Face To Face, the national domestic violence project. These two groups have joined together to fight against prejudice and violence in the world. Rickie Freeman, along with her friends and colleagues at Teri Jon are proud to support Face to Face, a project founded by the AAFPRS. Face to Face is a program which offers free consultations and reconstructive surgeries to battered and abused women all over the United States and abroad. Face to Face also sends respected surgeons to volunteer in developing countries. These surgeons travel all over the globe to help treat facial deformities in young children which are caused either by complications at birth or by early trauma.
An event in support of these practices was held at the showroom at the Teri Jon headquarters in New York City and was attended by surgeons who take part in this program and their families, along with media representatives and select others. The event took place on July 15, 2008 and included a fashion show, luncheon, and a sale to benefit the cause.
Another institution which came out in support of this worthy cause was The Midtown Dental Group, a New York City Dental Practice located on 37th street between 7th and 8th avenues. Dr. Daniell Mishaan, founder and owner of the practice, not only attended the function to show his support but donated his time and talent to the cause as well. Following in the generous footsteps of the AAFPRS, Dr. Mishaan has offered free full dental consultations to battered and abused women.
The Midtown Dental Group provides a full range of dental services with a focus on the convenience of the patient. Having assembled a team of professionals to provide expert dentistry, plastic surgery and orthodontics in one unbeatable location, The Midtown Dental Group is one of the best NYC Dental Offices. With the addition of free services for battered women, Dr. Mishaan and his top New York City Dental Surgeons are also considered to be among the most active humanitarian dentists in New York. "I have found that there is nothing more meaningful than being able to use your talents to help out those who are most in need", said Dr. Mishaan.
By restoring self image and personal strength, this partnership of hope and kindness has helped restore the shattered lives of these women. Through the help of so many compassionate people and institutions, the passionate fight against domestic violence has never been stronger.
The Dental Aesthetics and Facial Group is one of the finest dental practices in Midtown Manhattan of New York City. Their office is located at 241 West 37th Street, between 7th and 8th Avenues. They can be reached at (212) 730-4440 or at their website http://www.midtowndentalgroup.com
###