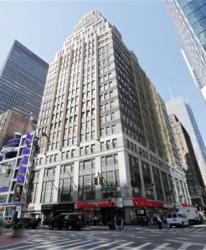 Preleasing of the new floor, which begun just a few weeks ago, garnered an impressive company roster, with high-profile clients including the Daily News.
New York, NY (PRWEB) June 24, 2013
Jay Suites recently announced the expansion of their Times Square office space center. The firm leased the third floor of 1441 Broadway, which will accompany the fifth floor already operated by the executive suites provider. The expansion effectively doubles Jay Suites' space in the building, making the company the largest executive suites operator in the Times Square neighborhood.
Spanning approximately 22,000 square feet, the new space will feature the ultra-modern décor that is the hallmark of Jay Suites' office space centers: glass and steel doors, marble floors, and venetian plaster walls. The center will also include an expansive countoured reception area with flat-screen HDTVs, a 20-person boardroom with an oversized meeting table, ergonomic leather chairs and state-of-the-art technical equipment, an additional six-person meeting room, a hotspot area, and a fully-equipped café-style break room stocked with kitchen appliances.
1441 Broadway is a Class A, dual-entrance building located on the corner of 41st street. When Jay Suites first opened its center in the building's fifth floor in 2012, the 76 office suites in the space were leased up quickly. Preleasing of the new floor, which begun just a few weeks ago, encountered a similar demand pattern: the growing waiting list now resembles an impressive company roster, with high-profile clients including the Daily News as well as other companies in the technology and creative fields.
Launched in 2007 by brothers Jack and Juda Srour, Jay Suites is slated to have seven locations by the end of this year. The company's rapid expansion can be attributed to several factors. Initially, it operates in a hot real estate sector that's experiencing strong business demand in New York City. Combined with the founders' innovative style, old-fashioned commitment to personal customer service, an all-inclusive pricing style and decades of experience, this creates a winning combination that has spurred the company's growth.
Juda Srour, Jay Suites' charismatic president, hand picks each new office space center location for its proximity to transportation, shopping and dining spots, as well as the area's prestige and relevance to business. Currently in the works are two new centers: one on 34th Street – across the street from the Empire State Building – and another in the Chelsea neighborhood, in the heart of Manhattan's Fashion District. "This growth is very exciting to us," he says. "It must mean we're doing something right; and g-dwilling we can't wait to see what the future holds for us."
About Jay Suites
Jay Suites is a leading provider of flexible, fully-furnished office space suites in New York City. The firm specializes in full-service executive suite spaces with all-inclusive pricing; their short and long-term solutions accommodate a variety of businesses across the spectrum, from lawyers and financial managers to entrepreneurs. Jay Suites' vision is to transform the business center industry by committing an unprecedented amount of attention to design, service and quality. For preleasing inquiries about the new space, please call (212) 569-9000 or visit http://www.jaysuites.com.