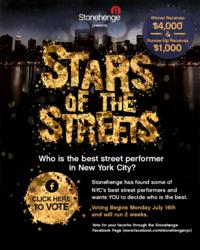 Musicians and street performers are part of the everyday experience of living in Manhattan.
New York, NY (PRWEB) July 18, 2012
The public can vote for the most popular street performers in NYC, enabling them to win a $4,000 grand prize and a runner up prize of $1,000, in the Stonehenge Partners Stars of the Streets contest—a contest hosted on Stonehenge's Facebook Fan Page. The real estate company, which owns and manages luxury apartment rental buildings throughout Manhattan and is focused on creating vibrant communities with access to arts, health and lifestyle activities for its tenants and neighbors throughout the borough, has created this contest to support arts on NYC streets. Fans can vote for their favorite performers during a two-week period. Voting starts July 16, 2012 and the two performers with the most votes will be awarded the top prizes.
Over the course of a few weeks team members at Stonehenge staked out and recorded some of New York City's most talented street performers. Among the contestants include local celebrities such as Moon Hooch, Sariri,You Bred Raptors and James Keyes.
"Musicians and street performers are part of the everyday experience of living in Manhattan. Be it during the morning commute on the Subway or on lunch break in Madison Square Park, it is nearly impossible to make it through a day without experiencing the many talents of local Manhattanites," said Ofer Yardeni, owner of Stonehenge Partners. "Through the Stars of the Streets contest, Stonehenge aims to place the spotlight and support the many talented NYC performers who are often overlooked in the local performance community."
Stonehenge NYC is a perpetual advocate of the arts and music community in Manhattan. In the past, they have teamed up with cultural nonprofit organizations that include No Longer Empty, The Art Students League, Hip Hop Saves Lives and Broadway Kids Care. In addition, Stonehenge regularly invites local musicians to perform at resident and community wide events including concerts in parks and on their rooftops.
From June 16 to June 30, 2012, the public is invited to visit the Stonehenge Facebook fan page; view videos of performances and vote for their favorites. Votes will be tallied and the performers with the most votes will receive their prizes.
About Stonehenge Partners
Stonehenge Partners is a fully integrated real estate company which was founded over 18 years ago by Ofer Yardeni and Joel Seiden. The Company owns and manages a 27 building portfolio encompassing over 3,000 rental apartments and close to 800,000 square feet of retail, office and garage space. The Company is headquartered at 888 Seventh Avenue in Manhattan. For more information about Stonehenge Partners please visit http://www.stonehengenyc.com