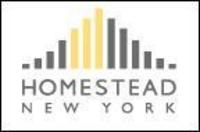 We maximize our space's efficiency differently.
New York, NY (PRWEB) August 20, 2008
Despite the uncertain climate of the New York City real estate market, Homestead New York, Inc., Manhattan's fastest growing real estate brokerage, has recently expanded its operations with the opening of its Midtown West office in a prime street-level retail space on the corner of 8th Avenue and West 54th Street. Some conservative industry insiders might consider it high risk for a mid-sized brokerage firm like Homestead to invest in pricey office space in a New York City neighborhood that's property value bubble has yet to meet the business end of the market downturn's pin.
But Homestead's Chief Executive Officer [CEO], David Yarden, can hardly imagine a location more conducive to Homestead's energetic and interactive approach to- and success in NYC real estate. Midtown West encompasses some of the most coveted Manhattan neighborhoods -- including Columbus Circle, the Plaza District and Central Park West, and Clinton Hill (Hell's Kitchen) -- with some of the most eclectic examples of New York City condo and apartment offerings in the city. Homestead's primary area of expertise, however, is in pre- and newly constructed New York City condos and Midtown West is also one of the city's most rapidly developing areas.
Homestead New York's first office, still located at 102 Fulton Street in the heart of the Financial District, also occupies prime, street-level retail space. When Homestead founders Daniel Shamooil and Eli Adahan opened this office in 2004, they believed that the storefront would promote their company's visibility and accessibility, and found that it also facilitated effective working relationships with clients that minimized the amount of time necessary to find them a suitable New York City apartment or condo.
CEO Yarden believes that Homestead office locations are closely tied to the company's ability to serve the clients and to continue to thrive under any New York City condo market conditions, and therefore are well worth the expenditure. Mr. Yarden notes that even in the strongest real estate markets, "It's very unusual for mid-sized brokerages to have street-level offices in such prime Manhattan locations. Even the large companies who have storefront offices fill them with as many desks and agents as they can to get the greatest return on their investment."
Mr. Yarden laughs good-naturedly at the idea that this means that Homestead's offices -- sparse and under-populated by comparison -- are not making the most efficient use of their expensive square footage, "We maximize our space's efficiency differently." The Midtown West office's open space and large comfortable couches are intended to put New York City condo and apartment hunters at ease and make their meetings with agents more productive. There are 20 professional agents on staff at the new location -- at least one is typically free to meet with walk-ins -- even though the office space can accommodate many more.
"You don't need more agents to be more efficient, just really professional ones," says Mr. Yarden. Homestead prefers to employ experienced agents whose long-term career goals are to advance within the real estate industry. Their agents are able to handle a wide range of different property transactions, as well as communicate effectively with their diverse clientele -- from recent college grads and artists seeking bargain rentals in Clinton Hill, to well-established professionals and celebrities seeking luxury condos off Columbus Circle -- whose varied New York City apartment and condo needs can be met in eclectic Midtown West.
Ultimately, the opening of the new Midtown West office is a bold and unmistakable gesture by Homestead New York demonstrating confidence in the resiliency of the New York City condo and apartment market. In many respects, by investing in the new Midtown West office, Homestead has placed itself in same position their clients may feel they are entering, so they are leading by optimistic example.
For further information, please visit http://www.homesteadnyc.com.
###