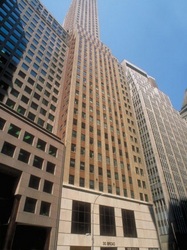 We needed a balanced mix of accessibility, convenience, and style in the building we chose.
New York, NY (PRWEB) February 23, 2011
Opening on February 22nd, Jay Suites' Financial District location at 30 Broad Street is the organization's fourth business center in Manhattan. The brand-new 14th Floor space features 48 individual office suites of varying sizes, as well as two fully-equipped, technologically-advanced meeting rooms, luxurious lounge areas & break rooms, a designer reception & waiting area, and exceptional attention to every detail.
It is truly amazing how much work went into planning and executing Jay Suites' newest business center location at 30 Broad Street, adjacent to the New York Stock Exchange. In creating a productive work environment for clients, it was also essential that the construction, as well as the finished product, reflected the company's commitment energy efficiency and lessening their environmental impact. This added an additional layer of complexity into the already challenging process of building a new business center from scratch.
The first major hurdle was the age-old adage: "location, location, location!" The quintessential New York business is finance, making a downtown location an easy choice for Jay Suites' owners, Jack and Juda Srour. "'Downtown Manhattan' is a very broad range of locations and neighborhoods. We had to make very difficult decisions – we needed a balanced mix of accessibility, convenience, and style in the building we chose," explained company President Juda Srour.
Clearly, they got what they were after – 30 Broad Street is an iconic art-deco landmark, full of old New York charm and adjacent to the New York Stock Exchange. Jay Suites' newest business center, located on the 14th Floor, was New York Stock Exchange, Financial District, NYC Financial Capital designed to provide both the high-tech, customizable business solutions their clients have come to expect, and a beautiful high-floor respite from the hustle and bustle of the worldwide financial capital located on Wall Street.
"The places within a one-block radius of the building are an incredible asset to our clients," enthused Manager Caitie Bucci. "Not only is the Stock Exchange next door, and every major subway line within one block, but the caliber of retailers, dining, and services in the immediate vicinity is unparalleled – Hermes, Cipriani, The Setai – everything!" she continued.
The next hurdle was turning a bland, empty floor into a luxurious modern business center – not an easy task, even for someone with as much experience as COO Jack Srour. "While we take into account what has worked at our other locations, we knew we needed a different product to make it appeal to the downtown market," said Srour. "We've broken the mold so many times before by being new and innovative, so we were conscious of the fact that we really had to out-do ourselves this time!"
So what happened next? Our team invested countless hours, numerous ideas, and an incredible amount of energy to bring our newest location to completion. Every detail, from the precise level of "frosting" on our glass doors to the color of our kitchen stools, was painstakingly planned tOffice Interioro provide our clients with the best working environment possible. Jay Suites' trademark black-marble floors and Venetian plaster walls highlight the beauty of the space, while new, exciting touches make a bold splash and beautifully highlight the character of the Financial District – like the grand black-and-white marble foyer, accented with classic chandeliers and modern glass furnishings.
In keeping with Jay Suites' tradition of excellence, only the highest-caliber technology equipment has been utilized in their newest space, including advanced VoIP telephony, CAT 5E cabling, high-speed (an highly-secured) wired & wireless internet connections, the best flat-screen TV's, and the newest meeting room technology. In furthering their commitment to the community, the company went out of their way to ensure every possible item was either energy efficient or featured a reduced environmental footprint.
You're now likely thinking that Jay Suites' Financial District business center has something for everyone – it does. The only remaining detail is getting your company established in our newest business center – we've made the office, it's time for you to make money!
###