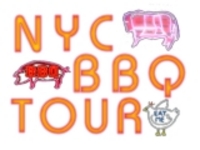 "Tour guests will be able to dine at four of the finest Manhattan barbecue establishments in one evening"
Hoboken, NJ (PRWEB) February 10, 2010
Following the success of "Mangia Hoboken! The Hoboken Food Tour", Hudson Tour's announces the first ever weekly barbecue tour located in Manhattan's historic Flatiron district. "Tour guests will be able to dine at four of the finest Manhattan barbecue establishments in one evening," said Tour Director Avi Ohring. "Guests will be able to experience something not available to most diners, such as a behind-the-scenes tour or a conversation with some of the best pit masters in the country. In addition, they will be able to sample great barbecue and side dishes from a variety of styles."
Host restaurants for the tour are Blue Smoke, Rodeo Bar & Grill, Hog Pit and Hill Country. "In addition, all the locations offer a great atmosphere and three of the four offer live music." Public tours will be offered every Monday evening and are limited to sixteen guests. Tuesdays are available for private group tours.
Tours are by foot and will depart from Madison Square Park. The tour will last approximately three hours and the $88.88 cost includes all barbecue, sides and soft drinks. Guests will also receive a tour booklet which contains valuable coupons for future visits to the host restaurants.
Reservations are required and can be made at nycbbqtour.com or by calling 800-838-3006.
###