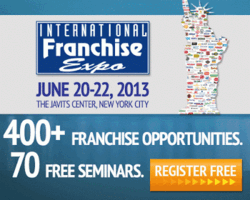 The Manhattan - a New York hotel welcomes attendess to this NYC event with impressive, money saving special offers.
New York, NY (PRWEB) June 05, 2013
Scores of people who want to be first-time small business owners or who are looking for a new opportunity will attend the International Franchise Expo 2013. This NYC event brings together franchise opportunities and educational seminars. The Manhattan - a New York Hotel will welcome attendees to this NYC event by preparing impressive special offers. View details or Check rates.
The International Franchise Expo 2013
When: June 20 to June 22
Where: Jacob K. Javits Convention Center | 655 West 34th Street New York, NY 10001
For many who want to break into the world of small business ownership, a franchise is a perfect choice. Taking the time to research the many franchise opportunities can be both intimidating and time consuming, but this NYC event makes it easy to learn about many of the best franchise opportunities in just a few days.
Those who attend this NYC event will learn about more than 400 franchise opportunities. A few examples are Relax the Back, 7-11, Dairy Queen, Bedbug Chasers, Closets by Design and the Spice and Tea Exchange. Representatives from all 400+ businesses will be on hand to discuss the opportunities and answer any questions.
In addition to the chance to learn about the different franchises, attendees will also have access to about 70 seminars that will cover every aspect of buying and running a franchise. Future small business owners who attend this NYC event will get help deciding which franchise best suits them, get advice about securing financing and much more.
The International Franchise Expo is a chance to get a head start on the road to becoming a small business owner. Attendees should book their rooms at a New York hotel now as many hotels will sell out well in advance of the event.
About The Manhattan – A New York Hotel:
One of the best features of The Manhattan - A New York Hotel is our incomparable location – literally in the center of everywhere you want to be when travelers visit New York. The Manhattan is just 2 blocks from Rockefeller Center and 4 blocks from MoMA.
The Manhattan Hotel's 659 well-appointed, non-smoking Guest Rooms and Suites are available on 22 floors and offer everything a Business Traveler or Leisure Guest will need for a memorable stay in New York City.
Looking for the ideal Times Square Hotel Offer? View The Manhattan Hotel's current special offers or call: 800.610.5386.
Read interesting New York Travel articles on The Manhattan Hotel Travel Blog.