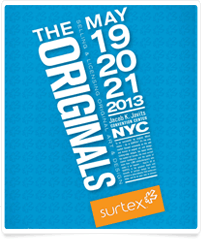 Many hotels, such as The Manhattan - A Times Square Hotel, will sell out due to SURTEX and other NYC events.
New York, NY (PRWEB) May 10, 2013
SURTEX is one of the well-attended NYC events for the art and design industries, and attendees to SURTEX should consider staying at The Manhattan - A Times Square Hotel. The Manhattan Hotel has created an impressive special offer for the remainder of the month of May where Guests save 50% off The Manhattan Hotel's Best Available Room Rates now through May 28th, 2013! View details > or Book now >
SURTEX
When: May 19 through May 21
Where: Jacob K. Javits Convention Center | 655 West 34th Street New York, NY 10001
SURTEX is the biggest of all NYC events for original art and design ideas. Many artists dream of the day they will be able to show at SURTEX. Exhibitors are able to show their work to more than 7,000 attendees who work in a variety of industries including art, home furnishings, apparel, toys, advertising, giftware and many others.
The buyers come to this NYC event from all over the world to see the offerings of the 320 exhibitors. Attendees to this trade-only event can walk the exhibit hall floor and see the hundreds of designers marketing their collection of ideas for giftware, stationary and more. SURTEX is the only outlet where artists can market their designs for every product and industry in one place.
In addition to the exhibitors, attendees to this NYC event can take part in educational conferences that cover various topics relating to the design and art industries.
Industry professionals planning to attend SURTEX should book their hotel room in New York as soon as possible. Many hotels, such as The Manhattan – A Times Square Hotel, will sell out due to this and other NYC events.
About The Manhattan Hotel – A Times Square Hotel:
With the ultimate New York location guests are just steps from exciting Times Square, the Broadway Theater District, Central Park, Empire State Building, and neighborhoods of Greenwich Village and SoHo to Central Park, Rockefeller Center, and Madison Avenue.
Visit The Manhattan - A Times Square Hotel Website.
View the Manhattan Hotel's New York Visitor Guide.
Check Rates, Make Reservations or call toll free: 800-610-5386
Read interesting New York Travel Articles on our New York Hotel Blog.