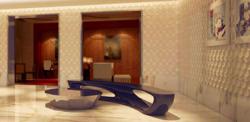 the Quin...a new luxury Manhattan hotel where art, design and nature blend seamlessly to create a sanctuary from the city at an incomparably central address.
New York, NY (PRWEB) May 07, 2013
Situated on 57th Street, a block away from Central Park, stands an elegant 17-story pre-War building with a history that is fully intertwined with an entire era of world-class music. The former Buckingham Hotel, once home to icons like Paderewski and Tebaldi, has been rechristened the Quin and re-imagined as a new luxury Manhattan hotel where art, design and nature blend seamlessly to create a sanctuary from the city at an incomparably central address.
the Quin is a new NYC Hotel set to open Mid 2013 - Visit the Quin Website.
Debuting mid-2013, the Quin lies in the midst of the 57th Street gallery district, a mere block away from the grandest of the Fifth Avenue retailers, and within easy walking-distance to Lincoln Center, the Museum of Modern Art and Rockefeller Plaza.
A Melodious Past - the Quin's Historic Pedigree:
In 1929, the handsome Buckingham Hotel opened its doors on one of Manhattan's choicest corners: 57th Street and Sixth Avenue. One of its first tenants was also one of the world's most famous musicians: Ignacy Jan Paderewski, the pianist and composer who was the first Prime Minister of Poland. Paderewski lived in the hotel until his death in 1941, when mourners lined up around the block to pay their respects.
Others who made their home at The Buckingham in the first half of the 20th Century include Academy Award-winning composer Dmitri Tiomkin, Metropolitan Opera stars Giuseppe De Luca and Giovanni Martinelli, and actor Max Hoffman Jr.
A Harmonious Future - the Quin Takes New Shape:
Today, this storied address is being re-fashioned as the ultimate urban refuge – and perhaps the city's most ideally situated luxury Manhattan hotel. This sanctuary will offer unparalleled personal service, including dedicated "Quintessential Assistants" who assists with a guests every need; a signature New York Restaurant; Fitness Center with top-of-the-line Technogym equipment, and trainers offering customized exercise plans; a New York spa partnership with Fresh® and more.
Suites take advantage of corner locations and fill the extra space with added amenities like larger bathrooms with soaking tubs and open showers. The O'Keeffe and Paderewski Specialty Suites reflect the artistry of their namesakes. Quin's triplex Penthouse suite offers a 1,200 square-foot private terrace with sweeping views of Central Park and a full-service kitchen.
the Quin opens its doors mid 2013:
the Quin will occupy a unique place in the city's firmament of luxury Manhattan hotels. Seamlessly uniting its history with distinctly 21st-Century finesse, the Quin serves up timeless elegance and contemporary flair in equal parts.
But they are also quick to point out its peerless location at "the crossroads of cosmopolitan cool," making the Quin an ideal home base for New York shopping at Bergdorf Goodman, Tiffany, Henri Bendel and other 5th Avenue shops; nights at the symphony, opera and Broadway shows. With Central Park just a block away, leisurely walks, sightseeing or a brisk jog is minutes away. Art lovers will enjoy the very best of New York Museum's and the many New York Art Galleries close by and dining in some of best New York restaurants.
About the Quin - A Manhattan Hotel:
the Quin - A new NYC Hotel is debuting this mid 2013 and is located on the corner of 57th Street and 6th Avenue, at the intersection of art, music, and fashion, its privileged Midtown location provides effortless access to Central Park, Lincoln Center, Carnegie Hall, The Museum of Modern Art, and Fifth Avenue couture. the Quin melds modern opulence with its rich artistic heritage in each of its 205 thoughtfully appointed guestrooms including 27 suites.
Guests of this new NYC Hotel will relish in urbane and intelligent services, from Quin Attachés who curate a guest's New York experience, to distinguished amenities like an Executive Boardroom for 10, state-of-the-art Technogym fitness center, Apple equipped drawing room, Dux® beds by Duxiana, bath amenities by Fresh®, and a world class 200 seat restaurant and signature bar by a Celebrated Chef.
Renowned architecture and interior design firm, Perkins Eastman, has transposed a contemporary masterpiece on the classical foundation that was once home to cultural icons like pianist Ignacy Jan Paderewski and artist Georgia O'Keeffe. Resonating with refined repose, the Quin is the perfect Manhattan Hotel.
This new NYC Hotel is set to open Mid 2013 - Visit the Quin Website
For more information call: 212-245-7846 or Check Rates or Make Reservations.