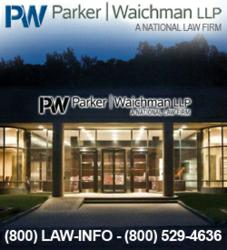 New York, New York (PRWEB) August 07, 2012
Parker Waichman LLP, a national law firm dedicated to protecting the legal rights of car accident victims, has filed a lawsuit on behalf of a Bronx, New York, woman who was allegedly injured in an automobile collision while a passenger in a cab operated by one of the Defendants. The complaint, which was filed on June 8, 2012, in the Supreme Court of the State of New York, Bronx County, names the operator and owner of the cab, as well as the motorist driving the other vehicle, as Defendants. (Index No. 305041/12)
According to court documents, the lawsuit alleges that the Plaintiff's injuries were the result of the careless, reckless, and grossly negligent manner in which the Defendants owned, operated, managed, maintained and controlled their respective motor vehicles, without any negligence or fault on the part of the Plaintiff contributing to those injuries.
Parker Waichman offers free legal evaluations to the victims of car accidents in New York and nationwide. If someone you love was injured in a motor vehicle crash, please visit our car accident lawsuit page at yourlawyer.com. Free lawsuit evaluations are also available by call 1-800-LAW-INFO (1-800-529-4636).
Parker Waichman LLP is a leading personal injury, mass tort, and environmental law firm that represents plaintiffs in car accident lawsuits in New York and nationwide. The firm has offices in New York, Long Island, New Jersey, Washington, D.C. and Florida. For more than two decades, Parker Waichman LLP has assisted thousands of clients in receiving fair compensation due to the negligence of others.
Contact:
Parker Waichman LLP
Gary Falkowitz, Managing Attorney
(800) LAW-INFO
(800) 529-4636
http://www.yourlawyer.com