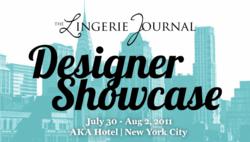 The Designer Showcase is a new lingerie trade show designed to showcase new talent and brands
New York, NY (PRWEB) June 28, 2011
New York City's newest lingerie trade show, the Lingerie Journal's Designer Showcase, has opened online registration for attendees via it's website: http://lingeriedesignershowcase.com/attendee-registration/
The registration page also offers buyer's the opportunity to conveniently sign up for a text alert to remind them about the show's dates and location.
"We wanted to make the sign up process easy for both visitors and exhibitors," said show organizer Luis Paredes. "Buyers can also make a direct appointment with exhibitors on the site as well."
Paredes noted that appointments are not necessary - though encouraged - and visiting buyers are welcome to walk the show as well.
The Designer Showcase is a new lingerie trade show designed to showcase new talent and brands during lingerie market week and opens July 30 at the AKA Times Square in New York City.
"We need an industry venue where smaller, independent designers can show their goods and not be competing for booth-space with the big guys. I can't wait to see the unique designs and products exhibited at this show," said Jennnifer Manuel Carroll, owner of Seattle lingerie boutique Bellefleur Lingerie. "As a boutique owner, it is invaluable to have smaller, lesser-known designers hand-picked for me and all in one location. Designer Showcase sounds like the perfect solution—as I trust the Lingerie Journal's exclusive eye."
Among the exhibitors are eco-conscious lingerie brand, Clare Bare Lingerie by Clare Herron; Ombrato, a luxurious sleepwear and loungewear collection designed by Masako Shirokawa and the stylish German-made love toy brand, FUN FACTORY, who will be presenting a line of Sensual bodycare products called "Love Yourself".
The Designer Showcase is put together by lingerie news site The Lingerie Journal and is sponsored by Eucalan Lingerie Wash, Directory-Sexy.com and Coole Solutions LTD, makers of the Slip-It fastener.
The Showcase is being held at the AKA Times Square from July 30th - Aug 2nd and more details for the show can be found on their website, lingeriedesignershowcase.com.
###