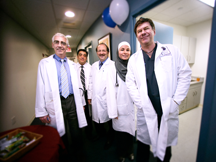 This is truly the ideal model of what an effective medical website should be.
New York, NY (PRWEB) October 26, 2012
New York Cardiovascular Associates today announces the launch of its new website, designed by the acclaimed creative team Paramount /MD. The unveiling of the site corresponds with the expansion of New York CardioVein and the New York Sleep Wake Center.
New York Cardiovascular Associates' new website is entirely devoted to the services and knowledge of vein disease, cardiac testing, arterial disease, sleep therapy/treatments, internal medicine, research and overall health. The site features a wealth of informative healthcare content for patients, to help educate the public about common conditions and empower patients to be active participants in improving their health. The design also incorporates innovative features to enable patients to connect with the center's physicians, and to get feedback from other patients. That includes original, in-depth interviews with NYCVA's medical staff, as well as first-hand patient testimonials. All interviews with staff and patients were managed and conducted by President and C.E.O. of Paramount/MD Victor Sirgado.
"We've developed a new style of design for the medical industry," said Mr. Sirgado. "We're bridging post-modern design with award-winning photography to offer a visually-stimulating user experience. At the same time, we're integrating high-quality, informative health information for patients and prospective patients. This is truly the ideal model of what an effective medical website should be."
New York Cardiovascular Associates agrees. Dennis Gifford, FACHE, Practice Administrator of NYCVA commented: "We are extremely happy to provide an even-higher standard of healthcare to New York City and surrounding boroughs with our expanded services and newly re-branded medical group. We are fully committed to our motto 'Patients First' and are proud of the collaborative approach our doctors take to ensure comprehensive patient care. We are very pleased with Paramount/MD's creative direction and have enjoyed working with them throughout the website development process."