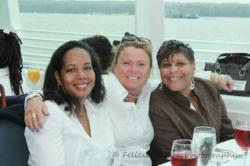 Women Veterans Interactive (WVI) has been answering the charge of Labor Secretary Solis to help female veterans in transition. The CEO of Women Veterans Interactive was a homeless veteran and she knows all too well the challenges facing women veterans
New York, New York (PRWEB) September 15, 2012
The White House estimates that there are 13,000 homeless women veterans. United States Labor Secretary Hilda L. Solis has said, "As the number of women veterans' increases, we need to provide better-tailored tools to support them as they transition back into civilian life."
Women Veterans Interactive (WVI) has been answering the charge of Labor Secretary Solis to help female veterans in transition. The CEO of Women Veterans Interactive was a homeless veteran and she knows all too well the challenges facing women veterans.
Armed with some of the most talented honorary members, women veterans and military spouses such as Honorary Advisory Member Congresswoman Donna Edwards and Brigadier General (Ret) U.S. Army Belinda Pinckney, Executive Board President and under the leadership of Ginger Miller, WVI spearheads a pioneering, interactive approach with a clearly-defined mission of "Supporting Women Veterans through Advocacy, Empowerment, Interaction, Outreach and Unification (AEIOU)."
On October 7, 2012, Women Veterans Interactive will be hosting an Empowerment & Unification Lunch Cruises http://empowermentunificationcruise.eventbrite.com/, setting sail from Chelsea Piers in New York with special guests two-time WNBA Champion, Yolanda Moore, formerly with the Houston Comets, Gwen DeVoe, Founder and Executive Producer of Full Figured Fashion Week™; and celebrity make-up artist Tifini Lewis.
On October 21, 2012 we will also be hosting an Empowerment & Unification cruise at the Otter Birth in Norfolk Virginia http://norfolkempowermentandunification.eventbrite.com/ and then the National Harbor in Maryland on November 11, 2012 for Veterans Day.
A Women Veteran Interactive empowerment and unification lunch cruise includes a "A Tribute to Women Veterans" to give these women the significant laud they deserve. Afterward, we will board the cruise to empower these women with peer-to-peer interaction and information on support services to include housing options, health care alternatives, education, and employment.
On March 18, 2012, The 1st Annual Women Veterans Empowerment & Unification Brunch Cruise at the National Harbor in Prince George's County, Maryland was a huge success, serving over 190 women veterans with the help of wonderful sponsors like the Association of the United States Army's George Washington Chapter and the Business and Professional Women's Foundation. According to Women Veterans Interactive's Founder and CEO Ginger Miller, "WVI's goal is to provide outreach to 1,000 female veterans and interact with them by the end of 2012, as we travel through the nation."
"The [homeless] female veteran population is estimated to grow from 1.8 million in 2010 to 2.1 million by 2036," according to the Department of Labor's guide The Trauma-Informed Care for Women Veterans Experiencing Homelessness, and Senator Patty Murray (D-WA), chairman of the Senate Veterans' Affairs Committee, says "the number of women veterans who are ending up homeless has nearly doubled over the last decade" from 4 percent in 1990 to 8 percent today. "One out of every 10 homeless veterans under the age of 45 is now a woman. Many of these homeless, female veterans have kids." To end homelessness for women vets, the America must pursue "both rescue and prevention," says U.S. Veterans Affairs Secretary Eric Shinseki, "to rescue those who are homeless on the streets today and to simultaneously prevent others who are at risk from ending up there tomorrow or the day after."
Women Veterans Interactive works to rescue vets and prevent homelessness. This cruise is a great way to show support for our female veterans and is a major step toward helping them to self identify, unify with their peers, and become empowered with the tools necessary to break down the barriers that lead to homelessness. # #