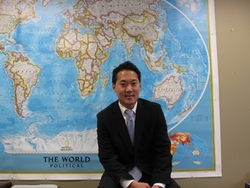 My providing medical services was a given, but my primary reason for going to Haiti was to use my expertise in coordinating the logistics and arranging for future teams of health care providers.
Old Westbury, N.Y. (Vocus) February 2, 2010
Edward Cho, D.O., MPH, assistant professor of emergency medicine and associate director of NYIT's Center for Global Health, led the collaboration between New York Institute of Technology's College of Osteopathic Medicine (NYCOM), Continuum Health Partners, and Global Action Foundation to provide medical services and logistical assistance in response to the Jan. 12 earthquake that devastated Haiti.
Dr. Cho visited Haiti from Jan. 16 to 22 to provide emergency medical support and services to health care providers, as well as to arrange logistics and prepare a needs assessment for Haitian clinics and hospitals, and field clinics in development.
"Essentially, my mission was to understand the need for health care providers, the amount of time commitment required of them, and where they were going to be stationed. I also had to determine what kinds of supplies were needed, and how the supplies would get to from point A to point B," said Dr. Cho. "My providing medical services was a given, but my primary reason for going to Haiti was to use my expertise in coordinating the logistics and arranging for future teams of health care providers. I'm happy to say that despite some significant obstacles, I was able to accomplish my goals."
Dr. Cho is responsible for NYIT/NYCOM's partnership with Continuum Health Partners and Global Action Foundation (GAF). Continuum is a nonprofit hospital system in New York City comprising five distinguished hospitals: Beth Israel Medical Center, Roosevelt Hospital, St. Luke's Hospital, Long Island College Hospital, and the New York Eye and Ear Infirmary. GAF is a non-profit organization committed to social change in Sierra Leone and is providing logistical support in Haiti.
As part of its initiative, Continuum will deploy their physicians and health care providers to Haiti during the next six months. The health care providers, including nurses, doctors, and physician assistants, will offer their services in Haiti in two-week rotations, depending on specific short- and long-term needs.
NYIT/NYCOM has also ensured that Continuum's health care providers in Haiti will be able to input logistical information onto a Web board that was created by a technology team led by Chellappa Kumar, Ph.D., NYCOM chief information officer and professor. This system allows information to be uploaded, collated, and packaged in an efficient way for non-governmental organizations (NGOs) to access and utilize for their response efforts. Dr. Cho will oversee this process and verify that the information collected is distributed to the people who need it the most – especially the Haitian government and the NGOs.
About the Center for Global Health
The Center for Global Health, a New York Institute of Technology (NYIT) interdisciplinary graduate center established in 2007 under the direction of Edward A. Gotfried, D.O., FACO, is a collaboration of NYIT's College of Osteopathic Medicine (NYCOM) and the School of Health Professions, Behavioral, and Life Sciences. The center provides an opportunity for students and faculty to engage in the practice, policy development, and creation of solutions to the world's vital health problems. In addition, the center offers a certificate in global health to health, engineering, architectural, and business professionals that includes coursework and practicum fieldwork. Recently, students in the program visited the Kwahu region of Ghana.
About NYIT
NYIT is the college of choice for more than 15,000 students enrolled in more than 90 specialized courses of study leading to undergraduate, graduate, and professional degrees in academic areas such as architecture and design; arts and sciences; education; engineering and computing sciences; health professions, behavioral, and life sciences; management; and osteopathic medicine. As a private, nonprofit, independent institution of higher learning, NYIT embraces an educational philosophy of career-oriented professional education for all qualified students and supports applications-oriented research to benefit the greater global community. Students attend classes at NYIT's campuses in Manhattan and Long Island, as well as online and in a number of programs throughout the world. To date, more than 81,500 alumni have earned degrees at NYIT. For more information, visit http://www.nyit.edu.
Contact:
Lorraine Todisco
Communications Specialist
516.686.7812
###