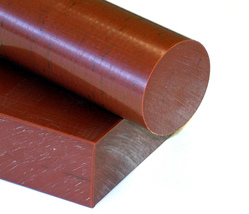 Reading, PA (Vocus) March 30, 2009
Reading, PA-- Quadrant EPP has expanded their industry leading product line to include a range of Nylatron® 4.6 rod and sheet sizes. This high temperature grade of nylon is based on Stanyl® 4.6 raw material produced by Netherlands based DSM Engineering Plastics.
Made available first in Europe, Nyaltron 4.6 was created to give OEM design engineers an option in Nylon (PA) that wasn't previously available. Nylatron 4.6 has a heat deflection temperature (ASTM D648) over 300ÚF (150ÚC) which exceeds most PA, POM and PET based materials. Nylatron 4.6 retains its strength and stiffness at elevated temperature but still offers the toughness and durability that make nylon a sound design choice.
Nylatron 4.6 has been used for wear-resistant parts in industrial process machinery and as valve components in chemical processing applications. Its' retention of physical properties at elevated temperature has made it ideal for small series, machined automotive and transportation components where under-hood specifications require 300ÚF (150ÚC) capability.
Quadrant produces rods up to 60mm (2.36") diameter in 3m lengths and sheets up to 50mm (1.97") thick as 1m (39.37") and 3m (118.11") lengths. Nylatron 4.6 is reddish-brown in color.
Photo caption: Nylatron® 4.6 from Quadrant offers heat resistance to over 300ÚF (260ÚC)
About Quadrant EPP
Quadrant EPP's products range from UHMW polyethylene, nylon and acetal to ultra-high performance polymers that resist temperatures to over 800 °F (425 °C). The company's products are used for machined parts in food processing and packaging, semi-conductor manufacturing, aerospace, electronics, chemical processing, life sciences, power generation and diverse industrial equipment. Quadrant EPP's products are supported by a global team of application development and technical service engineers.
Full support in evaluating designs and machining of parts is available from Quadrant Engineering Plastic Products' Technical Support Group. Learn more about Quadrant at http://www.quadrantepp.com.
Acetron, CleanStat, Duraspin, Duratron, Erta, Ertalyte, Ertalene, Ertalon, Extreme Materials, Fluorosint, Ketron, MC, Monocast, Nylatron, Nylasteel, Polypenco, Proteus, Sanalite, Semitron, Techtron, TIVAR and Vibratuf are registered trademarks of the Quadrant group of companies.
Stanyl is a registered trademark of DSM Engineering Plastics.
NOTE TO EDITORS:
If reader contact information is listed with this item, please send inquiries to Kim Imes or Kress Schwartz, Marketing Communications Team, Quadrant Engineering Plastic Products, 2120 Fairmont Ave. PO Box 14235, Reading, PA 19612-4235. Tel: 800-366-0310, Fax: 800-366-0301.
Press Contact at Quadrant Engineering Plastic Products:
Kress Schwartz
Tel 610.320.6639, Fax 610.320.6868
###