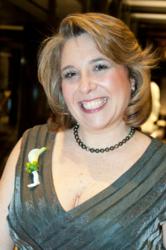 I believe we all have a visual story to tell. I hope with intelligence and compassion, I will continue to enable professionals to create and share their stories to help better connect them to the world around them.
- Linda Orton
New York, NY (PRWEB) March 06, 2012
Linda Orton, founder of Intelligent Video Solutions (IVS), Intelligent Entertainment Solutions (IES) and Vid4Pro.com, has won the 2011 Thought Leader award from the Metropolitan New York Chapter of the Legal Marketing Association (LMA). Ms. Orton won the award for her outstanding contribution to the Chapter and the legal marketing industry. A former in-house marketing director for major law firms in NY and London, Linda Orton received the award at the LMA Chapter's 20th anniversary celebration on Tuesday, February 28 at the Grand Hyatt in New York City.
This inaugural year, the Thought Leader award was one of the most nominated categories. The judges noted that Ms. Orton won the award as she demonstrated that she has been and is on the leading edge of technology and marketing and that she has leveraged her talents and expertise to serve the LMA community in a variety of ways over her career.
Since 2009, Ms. Orton and her team at IVS have produced and delivered creative videos to her clients in the legal and professional services industries. Linda's marketing expertise and knowledge of the legal industry enable her company to create videos that make a dramatic impact on her legal clients' online visibility. With the launch of Vid4Pro.com, she will be giving the professional market an alternative to YouTube.
Ms. Orton was the 1998 president of the LMA New York Chapter and was also the Chairperson of the Programming and Technology Committees as well as a committee member.
To learn more about the International Legal Marketing Association, visit http://www.legalmarketingassociation.org.
About Linda Orton:
With more than 20 years' experience in the legal, marketing and recruitment industries, Ms. Orton has been an active member and leader within the LMA since joining in 1991. Linda is President of Intelligent Video Solutions, which she founded in January of 2009 to leverage her years of business development and technology experience and to assist clients in the creation and distribution of online videos. Her first company, Intelligent Marketing Solutions, founded in 1997, was a leader in marketing consulting and recruitment services to leading law firms in North America and Europe. Linda recently launched Intelligent Entertainment Solutions and Vid4Pro. Linda has worked in the professional services industry since graduating from the University of Chicago in 1987.