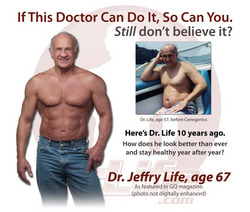 Twelve years ago, I was a prime candidate for diabetes. I had elevated blood sugars, abnormal glucose tolerance, elevated hemoglobin AICs and a family history of type 2 diabetes. I was destined to be diabetic like my father, but the Cenegenics program turned that all around
Las Vegas, NV (PRWEB) January 26, 2010
Dr. Jeffry S. Life, national healthy aging expert and age management medicine icon, is blowing the whistle on the traditional, irresponsible medical approach that ignores the science behind a proactive approach to preventing/delaying age-related disease and shrugs off treating male menopause, known as andropause.
Featured last week in LA Times, Chicago Tribune and NY Times articles, 71-year-old Life is a Cenegenics physician affiliate recognized worldwide for his chiseled physique that rivals the body of most 20-somethings. Life left his longtime family medicine practice back in 2003 after the benefits of a proactive Cenegenics program made him a believer. Ever since, he has practiced age management medicine, which takes a 180-degree shift from our current reactive, disease-based, diagnose-and-treat philosophy.
"Whenever I look in the mirror, I know for a fact this program really works. If I hadn't started the Cenegenics program back in June 2003--when I was trapped in andropause's downward spiral resulting from diminished hormones--there would be no way I'd be as healthy as I am or have the desire to work as hard as I do. For doctors to ignore the clear science and ignore declining hormones that jeopardize a patient's health is nothing short of irresponsible medicine. It's like not treating high blood pressure or high cholesterol," Life said.
The science, Life says, demonstrates that diminished hormones (i.e. testosterone, thyroid, estrogen, progesterone and human growth hormone) contribute to all of the age-related diseases, including cardiovascular disease, diabetes, cancer and Ahlzeimer's.
Life says he's made it his mission to let as many people know about the benefits of age management medicine--and to take the vision Cenegenics cofounder Dr. Alan Mintz had to new heights.
Although renowned experts such as Harvard's Dr. Abraham Morgentaler are in support of the protocols, the Cenegenics approach has met some naysayers in mainstream medicine, as the NY Times article by Tom Dunkel pointed out. Dr. Tom Perls, associate professor of medicine at Boston University School of Medicine, believes some age-management physician fudge their diagnoses.
Per Life, they're completely wrong, insisting his healthy aging programs actually promote what we know about science and biology.
"Twelve years ago, I was a prime candidate for diabetes. I had elevated blood sugars, abnormal glucose tolerance, elevated hemoglobin AICs and a family history of type 2 diabetes. I was destined to be diabetic like my father, but the Cenegenics program turned that all around," Life said.
As for diagnosing, Life says Cenegenics physicians perform painstaking evaluations to diagnose hormone deficiency.
"Even with a clinically deficient human growth hormone patient before us, we first opt for improved nutrition, exercise programs and optimizing other hormones for six to eight weeks. More often that not, the patient regains healthy growth hormone levels and doesn't need growth hormone therapy," Life said.
Awhile back, Life learned he had longstanding heart disease, a result of past years of a poor lifestyle. His cardiologist believes his healthy aging program reversed the vascular disease in his coronary arteries--which Life says are considerably better than they were ten years ago.
For an interview with Dr. Jeffry S. Life or to schedule a public appearance, please contact Ann Castro, Media Relations/Creative Director at 702.953.1561.
For more information about Dr.Life.com and age management medicine, visit our press room at http://www.drlilfe.com or contact the center's Vice President, Annie Life at 702.953.1561.
About Jeffry S. Life, MD, PhD, FAAFP
Dr. Jeffry S. Life is CEO of his Cenegenics-affiliate practice, located in Las Vegas, Nevada, and is the first-ever Alan P. Mintz, MD Award for Medical Excellence in Age Management Medicine. His progressive LIFE principle is a straightforward map to healthy, active aging with physical and sexual energy, using proactive, leading-edge medicine and lifestyle interventions--rather than a reactionary approach to disease. Dr. Life is a Principal and senior Affiliate of Cenegenics® and former chief medical officer of Cenegenics Las Vegas, the global leader in age management medicine. Since 2006, Dr. Jeffry S. Life's before-and-after pictures have captured national and international media attention, motivating people worldwide to become his patients and learn how to manage their aging process.
###