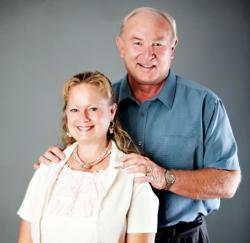 Auburn, Illinois (PRWEB) October 24, 2012
God's Ancient Pathways to Financial Blessing is a compelling seminar to transform the faith-based community.
Ray, is a sought after author and speaker. He has an anointing to transform the economic structure of families, businesses and churches. His plan is to translate Biblical principles of giving and receiving. This is in an attempt to awaken in people during these sessions. He draws from his incredible personal life experiences in business mergers and acquisitions. While creating a correlation of Biblical spiritual revelation.
In one weekend Ray Landers will speak simple truths of God's principles of Biblical finance. This seminar will transform the members of your church community when it comes to understanding God's Kingdom strategy. Speaker and author Ray Landers demonstrated talent for business as a teenager and owned a home and a farm before he turned 20. By the age of 25, he had become a millionaire.
After financial disaster struck, Mr. Landers and his family struggled to rebuild what they had lost. The experience inspired him to begin learning about biblical finance and God's principles for financial management. His pursuit of knowledge in this area included several years of study with rabbis in Israel.
Understanding the stress that finances cause many families, businesses, and churches, he decided to share his findings with groups around the country, teaching them God's word on giving and receiving. Since Ray Landers began traveling around the country conducting seminars, he has become one of the most sought-after speakers on the subject. Individuals laud his ability to combine biblical truths with personal accounts to create a truly life-changing experience.
Mr. Landers has also published two books on the topic of biblical finance. The first, "Wealth or Mammon," distinguishes between wealth and money and demonstrates how to become empowered to receive wealth. His second book, "Is Your Storehouse Stealing?" explores the concept of the tithe and what happens when money becomes misappropriated.
At present, he lives with his wife of more than 40 years on his family's farm in Auburn, Illinois. Together, they have four children.
For more information about Mr. Landers and his message, visit http://www.raylanders.com.