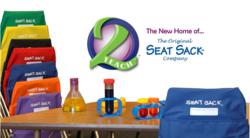 Your Formula for Educational Products & Classroom Organizers
Naples, FL (PRWEB) March 13, 2012
O2 Teach™, a new company in the Education Market, will launch its new educational product line at the Celebration of Teaching and Learning Show 2012 at the Hilton Hotel in New York City March 16th. The company, http://www.O2Teach.com was developed by the Seat Sack Corporation with the passion to provide high quality educational tools and organizers that assist educators and parents in engaging learners and meeting the needs of the individual student.
With the success of their internationally-recognized Seat Sack™ and other organizers, the Seat Sack™ corporation wanted to create a sister company that would expand its product line to include: award-winning educational products, games, learning toys, equipment and resources for teachers, parents and students. The two companies will operate side-by-side and maintain a reputation for exceptional high quality products and customer service.
O2 Teach™ will carry some popular product lines that work well in the classroom such as Educational Insights®, Learning Resources®, Hape® and Educo®, but will also give a voice to smaller product lines that provide quality teaching materials that are innovative, reflect higher level learning and help to develop organization skills. The company searched for products that inspired students to become self-reliant thinkers, meet core curriculum standards, focused on foundational development of basic reading, writing, math, science, social studies and music development. O2 Teach™ is excited to introduce its customers to products they discovered from Learning By Design® Spell-Links™ line, SQ Thinking's SQWrite program, the Music Intelligence Project the Tuneables, GeoToys® and Lay~n~Go®. These effective products will be featured at the Celebration of Teaching and Learning Conference, booth 309, for teachers and administrators to experience hands on.
With the introduction of O2 Teach™, the company plans to giveaway more than $250 worth of classroom products each month with their "Formula for Successful Teaching Giveaway." The giveaway will launch during the month of March and customers will be able to find details about the giveaway on the O2 Teach™ website, http://www.O2Teach.com .
The Naples, FL based O2 Teach™ Company is a sister company to the Seat Sack ™ Corporation. The company recently released a new catalog featuring products that invite children to explore fine and gross motor skills, social skills, creativity, theme-based learning, imaginative play, as well as math, science, and social studies resources. In addition, the company is also a dealer of the interactive white board, now!Board. With these high-quality products the company plans to help teachers and parents formulate successful learning, innovation, multi-sensory and higher level thinking in the classroom and beyond.